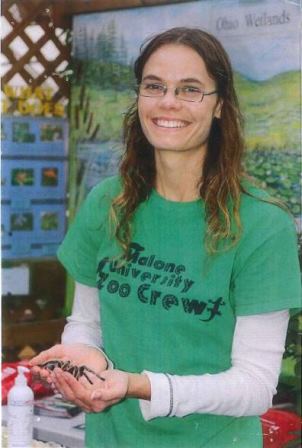 Education
B.A., Ouachita Baptist University
M.A., The Graduate Center - City University of New York
Ph.D., The Graduate Center - City University of New York
Experience
2013 - Present, Assistant Professor of Biology, Malone University
2013, Adjunct Assistant professor, la Guardia Community College, NY
2012 - 2013, Adjunct Instructor, Queens College, NY
2006 - 2011, Teaching Assistant, Queens College, NY
2008, Adjunct lecturer, la Guardia Community College, NY
Teaching Assignments
Invertebrate Zoology
Vertebrate Zoology
Comparative Vertebrate Anatomy and Physiology
General Ecology
Animal Behavior
Recent Scholarly Work
Baker, M., Hossain, K., Zabierek, K., Collie, K., Alyokhin, A., Mota-Sanchez, D. & Whalon, M. 2014. Geographic variation in cannibalism in Colorado potato beetle (Coleoptera: Chrysomelidae) populations. Environmental Entomology, 43, 102-109.
Collie, K., Kim, S.J. & Baker, M.B. 2013. Fitness consequences of sibling egg cannibalism by neonates of the Colorado potato beetle, Leptinotarsa decemlineata. Animal Behaviour, 85, 329-338.
Biography
I enjoy music, cooking, exercising, being outdoors, and spending time with friends. I love animals of all kinds, including my three cats, and I breed zebra finches as a hobby.