Malone graduate visits campus for the first time at graduation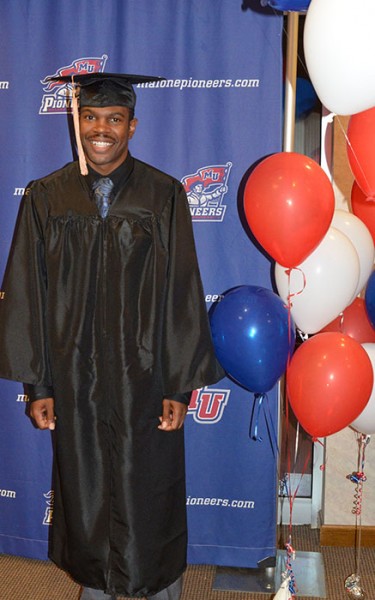 Curtis Bell '18 enrolled at Malone University to study Organizational Management and earned his Bachelor of Arts this past spring. But what you might not expect is, upon his first visit to campus, Bell brought with him a cap and gown to walk at Commencement. The entirety of his enrollment process and coursework was finished exclusively online. Bell made the more than 900 mile trip from Tallahassee, Florida to commencement In Canton, Ohio alone by car.
As the world advances and technology evolves, the lives and needs of students become increasingly varied and complex. Bell sought a fulfilling education to advance his career, but an important responsibility and passion kept him tethered to Tallahassee.
"I have had the opportunity to be a traditional and non-traditional student, and the latter option seems to be a better fit for my personal life," said Bell. "As a pastor of a local church in Tallahassee, it's necessary for me to be available to serve congregants and other community members. The online experience grants me more flexibility to learn and still serve."
Despite the appeal of the Organizational Management program, there were aspects of Malone which helped Bell feel comfortable and at home hundreds of miles away.
"The University had a campus as well as a strong online presence. It was my desire to join a school that would enable me to learn online and still offer a facility that I could visit," said Bell. "I was also motivated to become a Pioneer after talking to Admissions Counselor Alex Yu. He was the first representative from Malone that I spoke with on the phone. His kindness left me with the impression that I would be valued as a student at Malone."
Making presentations with his online peers and exploring his faith with his field of study through his program's Christian integration portion were some of Bell's favorite aspects of his non-traditional education, but the distance gave him a lot of time to think about the campus up in Ohio. The week of his momentous first visit to Malone, the product of his hard work and dedication became tangible.
"My overall first impression was one of gratitude and belonging," says Bell. "One of the first things I noticed was a monument with an inscription of Romans 8: 35, 37-39. This display of faith shows a level of pride for Malone's history and a willingness to claim Christ openly."
With his degree, Bell plans to work as a management consultant and currently has a couple interviews lined up for consulting positions.
"I would suggest praying about it," said Bell on advice he has for someone considering earning a degree online. "If God approves, then taking one initial course could be beneficial to determine if online courses are suitable for the individual. Online courses offer many benefits like flexibility, and the ability to learn from home. This could be useful for working adults, stay at home parents, or people with dependents. I highly recommend it to people who have full agendas, but desire to further their education."