Get To Know Candy
"At Malone University, one can find a close knit community where they can live their faith and succeed in the academic arena which will propel them to achieve their goals in the future." -Candy Bond '14
Candy Bond is a 2014 graduate of the Malone University Accelerated Degree Completion Program in Management. Candy currently serves as a Practice Manager at New Life Counseling. Get to know Candy and hear more about her Malone experience by reading her profile below!
---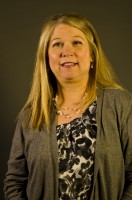 Completing a degree was a task that graduate Candy Bond '14 set out to complete not only for herself, but also for her family. Bond knew that she had to finish what she started in order to show her family the importance of following through on your goals.
"I have always told my children how important it is to finish what they start and if you make a commitment you must see it through," said Bond. "I came to the realization that I needed to live the words I spoke and in order to do so, I decided it was time to finish my degree."
Getting back into the swing of school proved to be challenging at first, but Bond was able to build a solid support system that consisted of her classmates.
"We encouraged one another through the academic process, provided each other with resources, shared our knowledge, and became a great source of strength and prayerful support for both our personal and academic lives."
Bond, alongside of her classmates, persevered through the duration of the program and was delightfully rewarded at the conclusion of it all.
"Preparing to walk for graduation, I was amazed at all that I had accomplished and that the ultimate culmination of my experience was actually happening," said Bond. "It was a wonderful feeling knowing that my children were in the audience watching me achieve my goal as I walked across the stage to receive my diploma."
Want to hear more about Candy's Malone experiences? Contact Candy today!