Get To Know Jeff
"I've found that it's always the biggest of steps and the intimidating decisions that have always led to the most rewarding changes in my life." -Jeff Hoehn '15
Jeff Hoehn is a 2015 graduate of the Malone University Accelerated Degree Completion Program in Management. Jeff currently serves as the Profit Center Manager at the Hajoca Corporation. Get to know Jeff and hear more about his Malone experience by reading his profile below!
---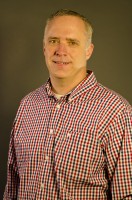 Choosing Malone was not a difficult decision for graduate Jeff Hoehn '15 because he got an inside look at what it was like to be a part of the Malone community before becoming a student.
"Through my business, I served as a contractor for Malone University and had the opportunity to meet many of the employees," said Hoehn. "Working with these individuals and recognizing how great they were to work with made me realize that those people on the academic side had to be just as great---and they were."
The interactions that Hoehn had with Malone faculty led him to the conclusion that they truly do understand what it takes to be an adult student.
"Almost all of the Malone faculty in the degree completion program have either been adult learners themselves or are currently adult learners pursuing their own higher education goals."
After successfully completing the Degree Completion program, Hoehn has moved on to advance his career in ways that would not have been possible without his Malone degree.
"I am ecstatic to say that since I graduated from Malone, I am no longer self-employed and am now working in a new field with a company who saw the value in both my professional experience and in my degree."
Want to hear more about Jeff's Malone experiences? Contact Jeff today!