Get To Know Jessica
"Completing my degree has given me a sense of pride and accomplishment. It feels great to finally say 'I have a bachelor's degree!'" -Jessica Kiser '14
Jessica Kiser is a 2014 graduate of the Malone University Accelerated Degree Completion Program in Management. Jessica is currently a stay-at-home mom, but recently worked as a Human Resources Professional. Get to know Jessica and her Malone experience by reading her profile below!
---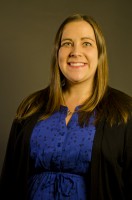 Instead of wondering if now was the right time to go back to school, graduate Jessica Kiser '14 decided that the longer she waited to make a decision, the longer it would be before she graduated with her degree.
"After completing the program, I was so glad that I started it right away before I began thinking too much about all the 'unknowns'," said Kiser.
As with anything new that is introduced into one's life, there are sacrifices and adjustments that will have to be made in order to accommodate the change. For Kiser, the Degree Completion program, which was designed to fit into the lifestyles of even the busiest of adults, conveniently fit in with her already existing schedule.
"I loved going to class one night a week because it granted me the freedom to have other plans outside of school work," said Kiser. "I knew in advance that I couldn't commit to anything that would fall on that one night a week, but it was only one night for 14 months and that was it. There were no surprises and no changes to that schedule."
Time flew by as Kiser found herself walking across the stage at graduation sooner than she ever anticipated. All of her hard work had paid off and she now acquired new skills, knowledge, and connections that would be nothing short of beneficial to her in the future.
"14 months may sounds like a 'long time' at first, but once you're in the program the time flies by quicker than you'll ever realize," said Kiser. "Before you know it, you too will be walking across the stage, diploma in hand thinking the same thing that came across my mind at that time, 'I did it!'"
Want to hear more about Jessica's Malone experiences? Contact Jessica today!