Get To Know John
"Choosing to go back to school as an adult is a big decision. Time seems more valuable and life is often more demanding, but, for me, it was one of the best decisions I ever made." -John Rair '13
John Rair is a 2013 graduate of the Malone University Accelerated Degree Completion Program in Management. John currently serves as Buyer-Purchasing for The Furbay Electric Supply Co. Get to know John and hear more about his Malone experience by reading his profile below!
---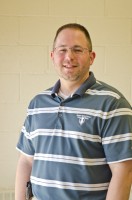 Living near the Canton area, graduate John Rair '13 was relieved when he found out that Malone University offered a program that would allow him to complete his bachelor's degree in a timely fashion. Rair was at a point in his life where he knew it would be a challenge to complete his degree, but with the right program it would absolutely be possible.
"Having such a great education option in the Canton area is a true blessing," said Rair. "I knew that with my full-time job, wife, and two active boys, I would need to find a local program that provided me with a top-notch education and Malone was that place."
Rair began the program and quickly came to realize the value of his interactions with his classmates and professors. The variety of students that Malone attracts gives you the opportunity to learn from the experiences that others have had not only in their professional lives, but also in their social and personal lives as well.
"Completing the program with the same group of students was awesome," said Rair. "I often learned as much from my classmates as I did from the instructors! We were able to draw on each other's knowledge to deepen and enhance the learning process."
Now that Rair has completed the program and has his degree to back up all of his hard work, the opportunities that have arisen since have been a true testimony to the education he received.
"My degree from Malone University has enabled me to explore multiple career opportunities and granted me the freedom to choose the best possible situation for both myself and my family."
Want to hear more about John's Malone experiences? Contact John today!