Get To Know Peggie
"My experiences with Malone University have been professionally valuable, spiritually challenging, and extremely personally rewarding." -Peggie DeMarco '11
Peggie DeMarco is a 2011 graduate of the Malone University Accelerated Degree Completion Program in Management. Peggie currently serves as the Executive Assistant in the Pupil Services Office for the Hudson City School District. Get to know Peggie and hear more about her Malone experience by reading her profile below!
---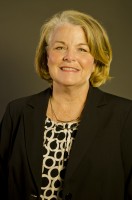 A common theme with adult students is the desire to build upon the knowledge that has already been attained through career experiences. Refining the knowledge that stems from these experiences is a goal for many adults as they look to move forward in their careers. For graduate Peggie DeMarco '11, obtaining her degree was something she knew would help to build on the solid foundation of knowledge she already acquired.
"After completing my degree, I had a much clearer understanding of the mechanisms behind non-profit businesses, specifically school districts," said DeMarco. "I now have the experience, knowledge, and training to truly understand how things like funding and human resources work in this field."
DeMarco embraced the curriculum in Malone's Degree Completion program and was pleased to have such wonderful resources available for her use. As an adult student at Malone, you have access to all the resources available for our traditional undergraduate students, which is something that many adult students do not realize.
"One of the resources that really proved to be helpful to me was my access to the online research database. I found this resource to be extremely helpful in aiding my research project for the program," said DeMarco.
DeMarco left Malone with not only her degree, but also the sense of gratitude and fulfillment. DeMarco could now get back to doing what she loved and apply her new knowledge towards enhancing her career.
Want to hear more about Peggie's Malone experiences? Contact Peggie today!