Get To Know Shane
"I value my experiences at Malone. The Degree Completion Program is a quality product and deeply meaningful experience." -Shane Leyda '14 
Shane Leyda is a 2014 graduate of the Malone University Accelerated Degree Completion Program in Management. Shane currently serves as the Senior Technical Project Manager for AT&T. Get to know Shane and hear more about his Malone experience by reading his profile below!
---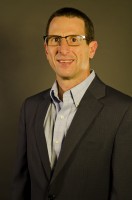 For graduate Shane Leyda '14, the thought of finishing a bachelor's degree crossed his mind for years as he regularly drove past the Malone University billboards advertising the degree completion program. This constant reminder of returning to school left Leyda with a big decision to make...where do I begin?
Leyda knew that he needed to find a program that best suited his needs as an adult learner and also provided him with a schedule that could feasibly work into his preexisting routine.
"I found that the hybrid program worked extremely well with my already busy schedule," said Leyda. "I took one class for four hours once a week and then I picked up a few online courses during the summer trimester."
Not only did the formatting of the program work out well for Leyda, but so did the fact that he could utilize his professional experience as a way to earn credit through the Prior Learning Assessment course. This allowed Leyda to accomplish his goal of earning a bachelor's degree in a much more efficient manner.
"Don't underestimate the fact that your professional and life-learning experiences are worth something to Malone University."
Want to hear more about Shane's Malone experiences? Contact Shane today!