Get To Know Tim
"The three main things I enjoyed about the degree completion program at Malone University were: Professionalism, professors, and Christian values." -Tim Kenworthy '12
Tim Kenworthy is a 2012 graduate of the Malone University Accelerated Degree Completion Program in Management. Time currently serves as the Director of Business Development at Aegion Coating Services. Get to know Tim and hear more about his Malone experience by reading his profile below!
---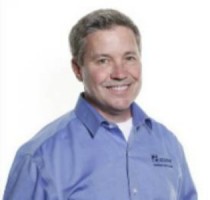 Traveling for work can prove to be an obstacle to overcome while trying to find a degree completion program that will accommodate your schedule. For graduate Tim Kenworthy '12 it was crucial to find a program that gave him the online flexibility he needed in order to continue on with his normal work schedule.
"My travel schedule for work dictated that I would need to attend an institution that offered an online degree program," said Kenworthy. "After researching the many online options out there, I determined that Malone University was the place for me due to their online track record, curriculum, and most importantly, their Christian values and expectations."
Even as an online student, Kenworthy was able to build valuable relationships with his professors as he went through the Degree Completion program. Having a support system as you complete this milestone in your life is extremely helpful and uplifting so Malone's faculty and staff are ready to provide that to all of their students, online or on-campus.
"I sensed that I was being professionally and efficiently guided through every class," said Kenworthy. "The teachers were phenomenal; they were passionate about teaching their subject matters and were always very accessible for counseling and advice."
For those individuals who are hesitant to return to school due to work schedules, time constraints, etc... Kenworthy encourages you to "just do it!"
"Returning to school will bring you that sense of closure you so greatly desire by allowing you to complete something you never finished."
Want to hear more about Tim's Malone experiences? Contact Tim today!