Professional & Student Organizations
Enactus
Enactus is a community of student, academic and business leaders committed to using the power of entrepreneurial action to transform lives and shape a better, more sustainable world!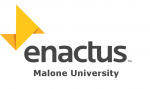 Academic Adviser: Mike Ophardt
Contact Info: 330-471-8179/mophardt@malone.edu
---
The Institute of Management Accountants
The mission of IMA is to provide a forum for research, practice development, education, knowledge sharing, and the advocacy of the highest ethical and best business practices in management, accounting, and finance.
Faculty Adviser: Brett Fogle
Contact Info: 330-471-8550 / bfogle@malone.edu
---
Sports Management Association
SMA, a student-led group, is an organization that allows Malone students to build upon their skills in a wide variety of fields, as well as learn more about the sports world.
Faculty Adviser: Mark Bankert
Contact Info: 330-471-8305 / mbankert@malone.edu