Empowered to serve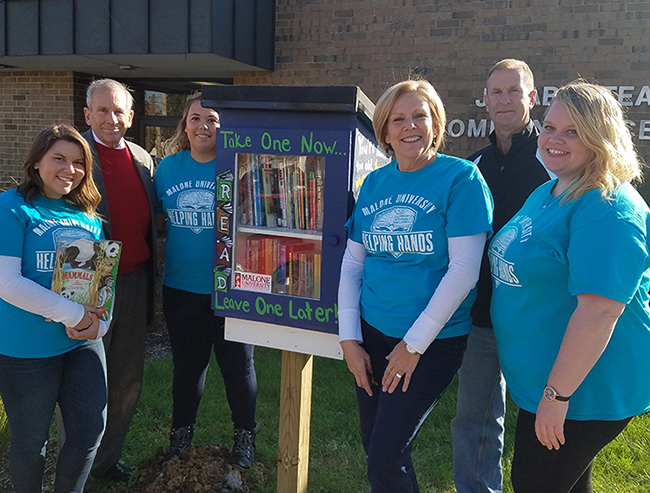 PROMOTING LITERACY. L –> R: Stephanie Carson, Canton Mayor Thomas Bernabei, Jenna Piersol, Beth Clark-Thomas, Dave Miday, Director of the J. Babe Stearn Community Center; Brittani Dunlap
Helping Hands, a student organization connected with the School of Education and Human Development, was revived this semester after nearly 20 years of inactivity. Student leaders who are passionate about youth literacy and outreach to impoverished communities brought renewed focus to the organization.
"Last spring, we were just a group of friends who had a dream to about reaching local children in the name of literacy," said Brittani Dunlap, Helping Hands vice president. "Now, with the support of the Malone community, we are well on our way to reaching those children because we believe we have the ability, the opportunity, and the responsibility to make a difference."
Their signature initiative was inspired by the national "itty bitty library" movement. Co-sponsored by the J. Babe Stearn Community Center, the membership built their own library unit using weather-proof materials and collected more than 2,000 books to give local children access to free reading materials during their school commute. They hope to install a new unit within the Canton city limits each Fall.
Canton Mayor Thomas M. Bernabei attended the installment ceremony of the itty bitty library on November 8 and commended Malone students for their desire to be change agents.
Helping Hands also has collaborated with Malone's chapter of Kappa Delta Pi to volunteer at The Big, Big, Really Big Toy Box for the Early Childhood Resource Center and also provided childcare at Harter Elementary School for parent/teacher conferences.
"I am so proud of the students who have taken the lead on reinventing Helping Hands," said Beth A. Clark-Thomas, Ph.D., professor of education at Malone and Helping Hands adviser. "Their desire to represent Malone – and Christ – as people of character, and to demonstrate to our community members that they matter, is downright inspiring!"
Helping Hands' current initiative is a drive for Operation Christmas Child. They also will partner with the Canton Charge basketball team to collect books: those who donate a book receive a free ticket to the February 23 game.
"Our vision for the future of Helping Hands is exciting," said Dunlap. "We want to see the group flourish with members who extend beyond the School of Education, and involve new students each year so that the organization can thrive once our leadership board has graduated."