Nursing Honor Society
Pi Chi Chapter – Sigma Theta Tau International
The Pi Chi Chapter of Sigma Theta Tau International, the only nursing honor society in the world, is one of more than 500 chapters in this organization of nearly 150,000 members. Our chapter represents an honorable group of nursing students and professionals who have met or exceeded rigorous standards and have demonstrated the ideal qualities of a leader and a scholar.
Each year, the Pi Chi Chapter Board of Directors identifies eligible students and nurse leaders and invites them to become members during the Fall Induction Ceremony. New inductees are joined by family, friends, classmates, and faculty at this formal event where they are honored for their achievements and treated to a keynote address offered by a distinguished guest speaker.
The speaker for the 2017 event was Dishon Kamwesa '10, BSN, RN, OCN, whose address was titled, "Ambassadors of Hope in a Broken World."
2017 Pi Chi Inductees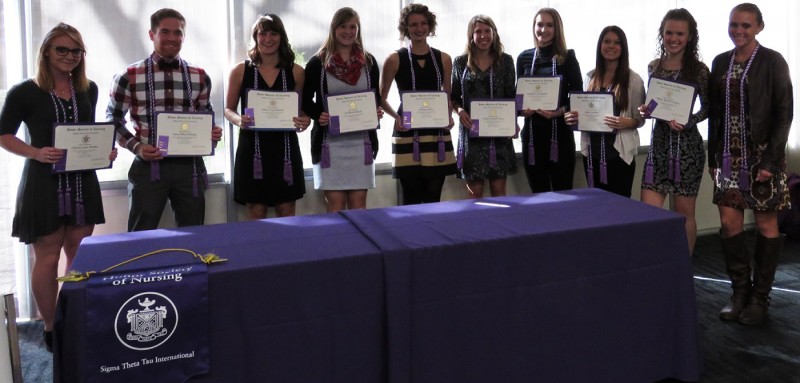 About Malone's Chapter
In 2017, the Chapter received not one, but two Showcase of Regional Excellence Awards! These awards served to recognize the chapter and its members for dedication to philanthropy and lifelong learning.
Scholarly activities and programs provided through the Pi Chi Chapter are open to all nursing students and the community-at-large, members and non-members alike.
Meet the Board of Directors & Officers
President – Debra Lee, PhD, RN
Vice President – Carrie Stroup, MSN, RN
Secretary – Vicki Russ, BSN, RN
Treasurer – Lori Cooke, MEd, BSN, RN
Faculty Counselor – Stephanie Burgess, MSN, RN
Chapter Publisher – John Bartlett, BSN, RN
Delegates – Stephanie Burgess, MSN, RN; Lori Cooke, MEd, BSN, RN