Band Camp
The Pioneer Spirit Band, Guard, and Dance Camp is held in mid-August and it is an important part of training and preparation for our fall season. During these nine days, students learn approximately a month's worth of material and leave camp with a working knowledge of the season's music and field show. Rehearsal will be every day, rain or shine. Bring your instrument, sunscreen, shorts, socks, cool shirts, and good sneakers. We do not march barefooted or in flip-flops.
You will be responsible for obtaining a lyre to hold your music on your instrument during rehearsals, two pairs of band shoes (one black and one white), and the t-shirt that will be worn under your uniform. We will take measurements for shoes and uniforms during band camp.
Band camp is hard work, but we have fun together, too. Aside from rehearsals, camp also includes team-building activities in the evenings and we have a cookout at the conclusion of camp. Our opening performance is during New Student Orientation.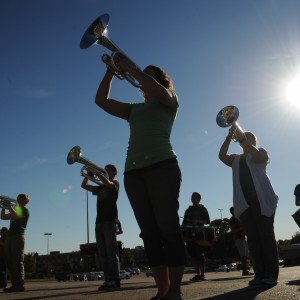 Read how your days will be spent at band camp.