What do you do when life hands you the chance to spend a summer working with rescued and rehabilitated dolphins?
Grab it by the tail, of course.
That's what Kaitlyn Cowley '19 did when she was offered the opportunity to serve as an education intern at Clearwater Marine Aquarium (CMA) near Tampa, Fla. The facility was home of the inspiration for the 2011 movie Dolphin Tale, and it exhibits marine mammals & sea turtles.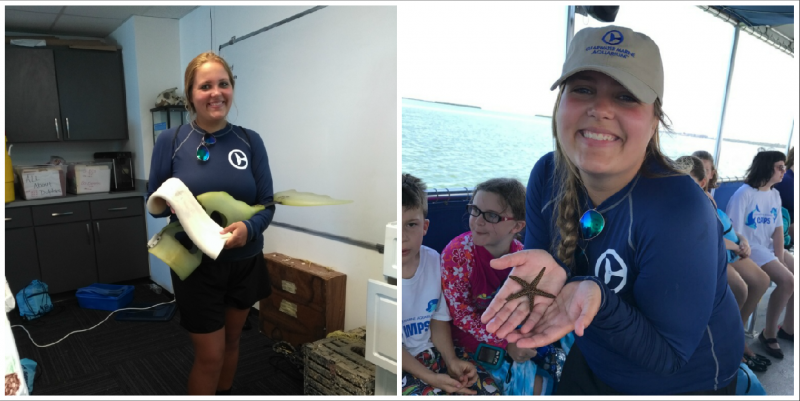 "It was an added bonus to include movie information in our facility tours because it brought in all kinds of people," said Cowley. "Since the prosthetic science that worked for Winter the Dolphin is now used for humans, I got to meet people who have benefited from it and visited just because the movie meant so much to them. It was really cool!"
Most of Cowley's responsibilities revolved around CMA's summer camps program, including material preparation and camper supervision. She worked with a wide variety of ages and met campers from all over the world.
"I was surprised to find out I would actually teach the camp sessions during my last few weeks at CMA," Cowley said. "As an intern, I expected that their professional staff would. And I was so nervous! But my supervisor eased us into it and I learned a lot through the process."
Interns at CMA were also required to do an individual project at the end of the summer, which allowed them to identify a camp they felt needed more material and create the curriculum for it.
"I realized that so many of our guests were not Florida natives and had limited knowledge about ocean conservation," she said, "so my camp curriculum revolved around everyone's ownership of our environment and little things we can do to reduce pollution regardless of where we live."
While Cowley believes her passion is field work and research, she is grateful for the summer she spent in Clearwater.
"I have learned so much about how a marine hospital functions and how to educate the public about why that's important," Cowley said. "I am also more sensitive to the needs of different children and how to cater individually to their abilities."