New graduate follows her passion to India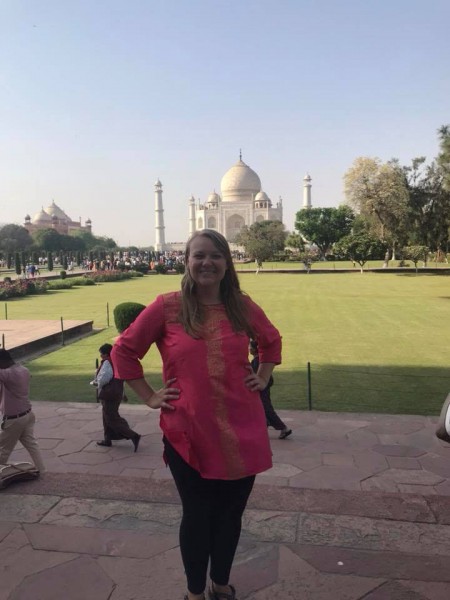 In September, Jenny Bushnell '18 will be boarding a jet to Chennai, India with a one-way ticket in her hand.
As part of her Ohio State University MSW internship, the social work/global & international studies graduate will be working with International Justice Mission, a faith-based agency that works to eliminate human trafficking across the globe. IJM is especially active in India, which according to a report in 2016, had the highest number of people living as domestic, sexual, bonded, or child labor slaves – more than 18 million men, women, and children.
During her study abroad experience last semester with Malone University, Bushnell completed her practicum in partnership with IJM in a rehabilitation training program through Best Semester and Madras Christian College.
"Working with IJM really sparked my interest and fueled a passion for me to see justice served," said Bushnell.
One of her roles when she returns to India will be to work with a Madras professor to interview families that have been released from the bonded labor system through IJM. The interviews will eventually be used to write a book that shares information about human trafficking in India. Also, she will be working with another agency to coordinate skills-based programs among the Irular people to encourage self-sufficiency.
A published author of Fresh Fruits, a devotional book, and a blog, Bushnell is excited to walk through these first steps of her journey post-graduation.
"I'm thrilled to have the opportunity to expand my writing more, coupled with my passion and desire to serve God internationally through social work," she said. "This is a once-in-a-lifetime opportunity and makes my dream of moving abroad come true. This project is opening the doors for me to shine the light of Christ among an unreached people group."
During her senior year at Malone University, Jenny Bushnell also assisted Associate Professor of Social Work Elizabeth Patterson Roe, with her research on refugee empowerment, working on the literature review for an article that will be published in the fall.
"I was privileged to have Jenny Bushnell as both a social work and global and international studies student," said Roe. "She embraced her experiences at Malone to maximize her learning and serve by going above and beyond what is expected of a student. Jenny's heart for the world combined with her developed social work and global and international studies practice skills have well equipped her to impact the areas of the world she is called to. I am really proud of all Jenny has accomplished and know she will impact the world for Christ while using her social work and global and international studies skills in practical ways."