Unleash your creative vision
Do you have artistic talent, but don't want to major in art? Consider an art minor. Students who are majoring in another program may choose to take an Art minor in addition to their primary course of study. You'll take classes in art history and spend time in the studio as you hone your skills and turn your imagination into reality.
A minor normally consists of a minimum of 15 semester hours, 6 of which must be taken at the 300/400 level. Each academic school or department must approve the student and curriculum to be used in the completion of each minor for the Office of the Registrar to verify at the point of graduation.
View Course Curriculum
The art minor curriculum for the basic program consists of 18 required semester hours of art courses. Each course is listed in the official Academic Catalog.

Once in the catalog, you can use the buttons (pictured left) located at the upper right of the page to plan your courses, save courses to your own personalized catalog, print, and more!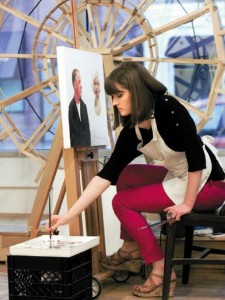 Alumni Profile
Heather Bullach '11
A portrait and figurative artist, Heather received much acclaim for her "50" project, in which she painted 50 portraits of local community members.