Promoting healthy lifestyles through professional health education
By completing this program, you will earn a bachelor of arts degree that will prepare you for careers in health promotion, health behavior, community health, public health, international health, and wellness. You will gain an understanding of the role of behavioral and social influences of public health and learn how to help others lead healthier lifestyles. We have a 100% pass rate on the National Certified Health Education Specialist (CHES) examination.
Our program focuses on the seven national areas of responsibility for health education specialists.
Assess needs, resources, and capacity for health education/promotion
Planning health education/promotion
Implementing health education/promotion
Conduct evaluation and research related to health education/promotion
Administer and manage health education/promotion
Serve as a health education/promotion resource person
Communicate, promote and advocate for health, health education/promotion and the profession
Why study this at Malone?
Majors are taught only by professors who have earned doctorate degrees.
You will have opportunities for hands-on learning through excellent internships.
You will be challenged to think about your faith — and incorporate it into your work in numerous ways.
Both the major and minor in Community and Public Health (with a few additional hours) in the Health Sciences allow you to sit for the National Certified Health Education Specialist (CHES) exam.
Our students have been published nationally as undergraduate students.
View Course Curriculum
View the required courses for the Community & Public Health major in the official Academic Catalog.

Once in the catalog, you can use the buttons (pictured left) located at the upper right of the page to plan your courses, save courses to your own personalized catalog, print them, and more!
Community & Public Health minor
Students who are majoring in another program may choose to take a Community & Public Health minor in addition to their primary course of study. The Community & Public Health minor consists of 21 hours.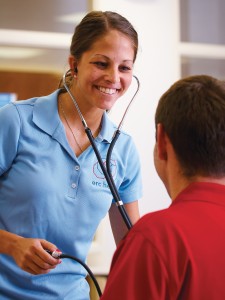 Alumni Profile
Rebecca Tipton '08
Rebecca has served internationally as an HIV/AIDS education volunteer with Global Service Corps and as a health educator with Ujamaa Hostel.