Change the world with your words
At Malone University, the study of Creative Writing seeks to join the pleasures of learning and artistic creation with the articulation of something meaningful, lovely, and right. Our students engage in a full range of literary endeavors: they write poems, stories, and essays; they edit, design, and publish online and print journals; they participate in conferences and public readings. Our goal is to graduate confident, skilled writers who can take their gifts and talents to any future career, be it authoring books, editing, teaching, or writing in the professions.
Our curriculum is tailored to the ambitious young writer. You will take creative writing workshops across the major genres, culminating in the compilation of a portfolio of your work, and will study the "Living Traditions" of literature, examining how certain key authors—Shakespeare, Mary Shelley, J.R.R. Tolkien, and others—were shaped by their time and their predecessors, and in turn left a mark still exerting influence on writers and readers today. Our major is both a liberal art—the kind of study that transforms you as a person—but also a practical one, developing marketable and transferable skills you can carry with you into any situation (the world needs good writers!).
Our students are not only creating amazing work at Malone, but also becoming writers: growing into people of courage and determination with not only the talent but the will to make it. While we're a young program, our graduates are already enrolled in top MFA programs, getting jobs in the corporate and non-profit sectors, and working as writers and teachers across the world.
Why study Creative Writing at Malone?
Attend our Literary Retreat at a nearby campsite, where you will reflect on your calling as a writer and build a community of peers through writing, acting, and even archery.
Apply for Malone's renewable, merit-based English Program Fellowships for amounts up to $1,000.
Join a supportive community of peers who hang out in our student lounge, create events with the Writers Guild and English Honors Society, and take small classes with high levels of student participation.
Learn from literary professionals in the Canton community and beyond through an internship, our English in the City Class, and the Writers Series.
Practice your skills as a writer and editor by working on The Quaker, Malone's literary magazine that publishes superb undergraduate writing from around the country.
Encounter the legacies of great writers in our Living Traditions courses, each of which considers an historical writer and their importance in contemporary culture.
Work with faculty dedicated to helping you find your path as experts in language.
What can I do with this degree?
We find that our graduates enjoy vastly diverse careers because excellent writers and creative thinkers are always in-demand. But here are a few of many common career options:
Novelist
Journalist
Blogger
Librarian
Technical Writer
Advertising copywriter
Arts administrator
Editor
Grant Writer
Teacher/Professor
View course curriculum
The Creative Writing major curriculum is listed in the official Academic Catalog.

Once in the catalog, you can use the buttons (pictured left) located at the upper right of the page to plan your courses, save courses to your own personalized catalog, print them, and more!
Creative Writing minor
Students who are majoring in another program may choose to take a Creative Writing minor in addition to their primary course of study. A minor consists of 19 hours of writing and literature coursework.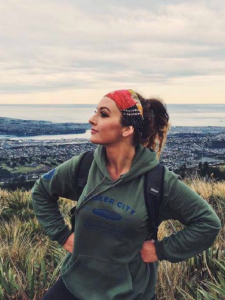 Alumni Profile
Riley Gable '17
Creative Writing graduate Riley Gable studied abroad in New Zealand. A published poet and author, she also works as a makeup artist.