Help create a more just society
Studying criminal justice at Malone opens the door to more than just being a law enforcement officer. A four-year degree in criminal justice can prepare you to pursue a career at the local, state, or federal level in a variety of fields and positions. Criminal justice prepares graduates for work in a variety of positions in the legal system.
Restorative justice seeks to move beyond the simple idea of punishing criminal behavior. When a wrong has been committed, restorative justice emphasizes the wider issues of supporting those who have been harmed and restoring the offender within society after restitution has been made.
A four-year degree will help you move beyond entry-level positions: a bachelor's degree often is a requirement for career advancement and promotion. The bachelor's degree also opens opportunities at state and federal level agencies.
Why study Criminal & Restorative Justice at Malone?
A degree in criminal justice flows from Malone's Christian heritage that emphasizes service to the church, community, and world. We also offer a unique perspective on the social issues communities face as well as a Christian view of justice in its many forms.
Our faculty members are active in scholarship in the field - and - committed to Jesus Christ and the integration of faith into the classroom and beyond.
Professors engage you in their research - and encourage you to conduct your own!
We offer internships with numerous community partners.
If you're interested in pursuing a global career, you'll be encouraged to study abroad with one of our many partners.
Become among the first students to graduate from Malone with a criminal justice degree - this is a brand new program!
What will I study?
You'll gain a deep understanding of how culture, social environments, and institutions shape our societies and our individual lives. You will learn how to articulate a Christian argument for the importance of justice and restoration as you are equipped to be an agent of change for the good of society.
You'll also examine topics from human trafficking to terrorism, from legal systems to peace and conflict studies. You might also consider combining your criminal studies with another major or minor such as forensic chemistry (for crime lab work), or psychology (so you can pursue victim counseling or criminal profiling).
What can I do with this degree?
Bailiff
Probation officer
Law enforcement officer (after completing police academy)
Parole officer
Corrections
Customs/immigration enforcement
Crime scene investigator
Forensic science technician
Private detective
Fish & game warden
Fraud investigator
FBI or CIA agent
US postal inspector
U.S. marshal
Social psychology
Juvenile corrections & probation
Legal services
Further studies in law, psychology, and criminology
View course curriculum
The Criminal & Restorative Justice major curriculum is listed in the official Academic Catalog.

Once in the catalog, you can use the buttons (pictured left) located at the upper right of the page to plan your courses, save courses to your own personalized catalog, print them, and more!
Criminal & Restorative Justice Minor
Why "Restorative" Justice?
Malone's commitment to restorative justice springs from our affiliation with the Evangelical Friends Church.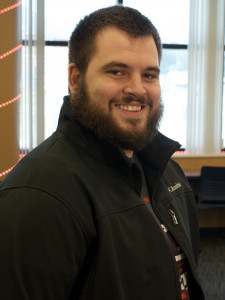 "I chose this major because I have always been interested in police work. I know my education at Malone will help me to succeed in obtaining a position in this field that I am most passionate about."
History, Philosophy, and Social Sciences Faculty