Innovate a better world
Combine the best opportunities education has to offer by studying engineering at Malone University—and the University of Akron!
You'll earn two degrees at the end of the program—one from each institution. At Malone, you'll study physics, chemistry, mathematics, computer science, and general education, all from a Christian perspective. Meanwhile, at the University of Akron, you'll take courses in thermodynamics, fluid mechanics, heat transfer, and more. You'll also complete a paid co-op leading to a B.S. in Mechanical Engineering.
Students who complete the five-year program will earn a B.A. in Physical Sciences from Malone and a B.S. in Mechanical Engineering from the University of Akron.
Why study Engineering at Malone?
In addition to its robust curriculum, expert faculty, and integration of faith and learning, you will have the opportunity to:
Live and study in a holistic Christian environment that will prepare you for all areas of life
Earn two degrees in five years
Participate in ample opportunities for internships and co-ops in industry, due to the locations of Malone University and the University of Akron
Engage in small classes, which provide for ideal individual instruction
Graduates of programs such as this are often preferred for initial hires over regular engineer majors
Explore broader educational depth and perspectives from two well-regarded universities
What are the admission requirements for the program?
Students must meet the following admission criteria to be admitted into the Mechanical Engineering Co-op Program with The University of Akron:
High School GPA of at least 3.4
Minimum ACT composite of 24
Minimum ACT Math score of 24
Minimum New SAT Total of 1160
Minimum New SAT Math of 580
What can I do with this degree?
Graduates from this program will be prepared to pursue careers in such fields as the following:
Mechanical engineer
Physicist
Researcher
Scientific entrepreneur
Graduate studies
Cooperative opportunities
Through the University of Akron's Cooperative Education program, you will be able to incorporate what you're learning in the classroom with practical, valuable, on-the-job work experience. During this training period, a campus coordinator will be visiting your place of employment, and you'll be earning both credit and a salary. Often, co-op placements lead to job offers.
View course curriculum
The Engineering major consists of courses offered by both Malone University and The University of Akron. Each Malone course and its description is listed in the official Academic Catalog.

Once in Malone's catalog, you can use the buttons (pictured left) located at the upper right of the page to plan your courses, save courses to your own personalized catalog, print them, and more!
See the University of Akron web pages for course listings as well.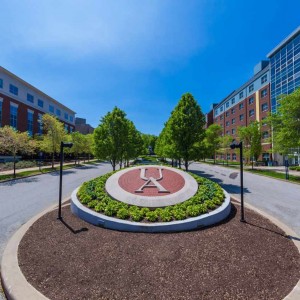 Find out more about the University of Akron's Engineering program by clicking the link below: