Unlock the possibilities of language
In the Malone English department, we know that students succeed when they can examine language, write texts, and think critically when faced with new contexts and challenges. In fact, employers in diverse sectors routinely report that what they want most are imaginative and interesting people. And isn't that we want to cultivate in ourselves anyway?
Students with a degree in English from Malone are just that – imaginative, well-read and well-spoken, and prepared to succeed in both their careers and personal lives. We help students to hone their ability to process language on both a rhetorical and emotional level so that they are top-notch communicators ready to accept the challenges that their future presents.
Why study English at Malone?
Attend our Literary Retreat at a nearby campsite, where you will reflect on your calling as an English major and build a community of peers through writing, acting, and even archery.
Learn from literary professionals in the Canton community and beyond through an internship, our English in the City class, and the Writers Series.
Encounter the legacies of great writers in our Living Traditions courses, each of which considers an historical writer and their importance in contemporary culture.
Join a supportive community of peers who hang out in our student lounge, create events with the Writers Guild and English Honors Society, and take small classes with high levels of student participation.
Take courses in Creative Writing and Linguistics to diversify your skill set.
Work with faculty dedicated to helping you find your path as experts in language.
What can I do with this major?
We find that our graduates enjoy vastly diverse careers because excellent writers and creative thinkers are always in-demand. We have a page dedicated to English Careers that goes more in depth, but here are a few of many common career options:
Editor

Teacher or professor

Lawyer

Librarian

Public relations specialist

Arts administrator

Journalist

Blogger

Technical writer

Grant writer
View course curriculum
The English major curriculum is listed in the official Academic Catalog.

Once in the catalog, you can use the buttons (pictured left) located at the upper right of the page to plan your courses, save courses to your own personalized catalog, print them, and more!
English minor
Students who are majoring in another program may choose to take an English minor in addition to their primary course of study.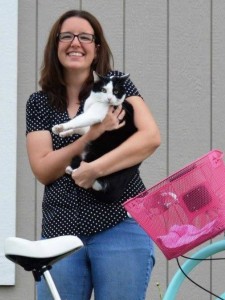 Alumni Profile
Amanda Flower
After graduating from Malone, Amanda became a successful mystery novelist. She's written over 20 books, including the Agatha Award-winning Andi Boggs series.