Pursue your creative vision
Train in various mediums of painting, drawing, ceramics, fabric arts, and more as you develop your aesthetic sensibility and gain skills. Learn how to present your work professionally, and prepare for the ins and outs of earning a living as a successful artist. You will gain valuable experience by entering local, national, and international exhibits.
If you're a serious artist looking to transform your skills in a Christian environment, consider Malone University. Here, art studies find common ground with the liberal arts and the practical demands of the profession.
Why study Fine Arts & Crafts at Malone?
Creative growth is nurtured at Malone, where you are inspired by artists and a close-knit group of fellow students. The Akron/Canton area also offers an inspirational environment for the artist, as well as a rich and internationally recognized collection of museums, such as the Cleveland, Akron, and Canton Museums of Art. As a student, you will have many opportunities to exhibit your work on and off campus in student shows and in local, regional, and national exhibits, intern at museums and with ad agencies, and develop an incredible portfolio.
What can I do with this degree?
The education, training, and experience you receive in our Fine Arts & Crafts program will prepare you for any number of careers, including the following:
Artist
Illustrator
Animator
Sculptor
Painter
Art Professor
Museum Curator
Production supervisor
Creative ministers
View Course Curriculum
The Fine Arts & Crafts major curriculum (courses and course listings) is available in the official Academic Catalog.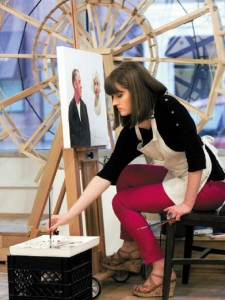 Alumni Profile
Heather Bullach
A portrait and figurative artist, Heather received much acclaim for her "50" project, in which she painted 50 portraits of local community members.