Social work and global & international studies graduate Amber Friscia '17 once believed attending Columbia University for graduate school was beyond her reach.
"Columbia has one of the best MSW programs for students to apply for and can offer amazing opportunities post-graduation from there," Friscia said. "But Columbia was that dream that you have when you're like six years old; you know the 'I am going to be a professional athlete' or the next 'rock star.'"
However, Professor of Social Work Jane Hoyt-Oliver believed in her and convinced Friscia to at least apply. That belief gave her the push she needed to turn start the grueling admissions process for the university's Advanced Standing Masters of Social Work program.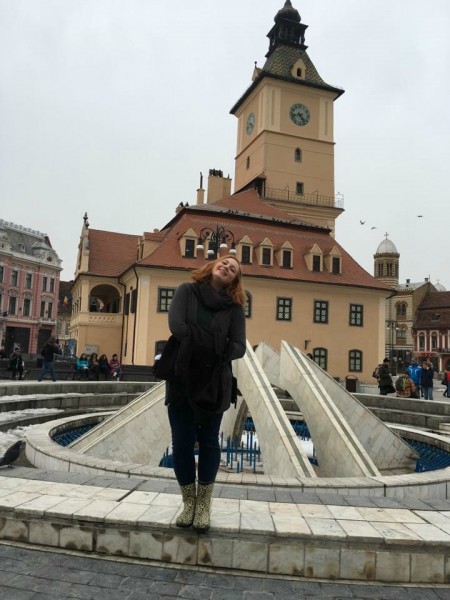 Friscia described the moment when she learned of the school's decision – she was, at the time, studying abroad in Romania:
"I was checking my email and saw the subject line 'Your decision is ready to be viewed online.' I did not want to open it, what if I hadn't gotten in? That I would have had to spent the whole day in a bad mood knowing that I did not get into my top pick graduate school. But then I thought, 'What if I did get in? How cool would that be?' So, I logged into my Columbia account and checked my decision. The first word was 'Congratulations!' and knew that I was accepted. I literally jumped out of my seat and screamed because I honestly thought that there was a better chance of Jesus coming back to earth that day than me getting accepted! It was an exciting time and I also learned that when you scream at your internship in Romania, your concerned Romanian co-workers will come running in speaking at the speed of light in Romanian because they think something is wrong."
Since gaining admittance, Friscia has gained a lot of confidence in her decision and feels prepared for the work ahead.
"My course work, internships, and more importantly, my professors at Malone prepared me for graduate school," she said. "Most people I have talked to outside of Malone say that they only have two internships at most, some only have one placement, their senior field one. But through my time at Malone I was given the ability to have four different internships in four different areas of social work that I believe have helped shaped and make me a well-rounded social worker. The course work we had was difficult, but because of that I know I can handle a harder course load which very well might be the case when I start at Columbia. But the Social Work professors at Malone is what helped prepare me for graduate school. They were always honest about their expectations, their thoughts on completed papers and projects, and they always strived to make sure that the students understood everything that was happening in the class."
In addition to her social work classes, Fricscia particularly was fascinated by a course with Professor of International Politics Scott Waalkes.
"He fostered such a great learning environment," she said. "In this class, "Problems in Society," we spoke a lot of current issues and problems our society is facing today. Things like the glass ceiling, poverty and international issues, too. I learned so much from this class."
Outside of the classroom, Friscia competed on the swim team and was deeply invested in residence life.
"Helping Blossom win their first Davenport Derby was a moment at Malone that I will remember. Being on the swim team, I met amazing people and made lifelong friends. Meeting the 607—Hannah, Haley, Mel, Carey and I all lived on Blossom 1 South our freshman year and we were blessed with an RA that fostered our friendship to the point that they are still my bffs today," she reflected. "But I think the greatest thing I gained from Malone, was the Malone community. Coming back from Romania I was just expecting a grand hello from the 607 and my girl Carrie because they had been my rock since freshman year but the first night I was back on the campus the number of people who greeted me, hugged me, were interested in where I was when I was gone, and said they were happy that I was back was astonishing. People who I had only met once were coming up and expressing how happy they were that I was home safe. Malone, in my opinion, is the only community that you can sit in silence for two hours doing homework with a stranger across the room to leave the room with a prayer session and a new friend. Malone would not be Malone without its community."
Media Gallery
She believed she could, so she did.