Design a more beautiful world
Hone your technical talents and creativity under expert faculty artists as you explore the world of design and illustration in the digital age. Gain mastery over Adobe design apps, 3D design and animation, and illustration. You'll work closely with film, creative writing, computer science, and math departments as you create interactive and cross-departmental projects, as well as learn how to professionally network in the local community and beyond.
If you're a serious artist looking to transform your skills in a Christian environment, consider Malone University. Here, art studies find common ground with the liberal arts and the practical demands of the profession.
Why study Graphic Design & Digital Arts at Malone?
Creative growth is nurtured at Malone, where you are inspired by capable artists and a close-knit group of fellow students. The Akron/Canton area also offers an inspirational environment for the artist, as well as a rich and internationally recognized collection of museums, such as the Cleveland, Akron, and Canton Museums of Art. As a student, you will have many opportunities to exhibit your work on and off campus in student shows and in local, regional, and national exhibits, intern at museums and with ad agencies, and develop an incredible portfolio.
What can I do with this degree?
Students who graduate with this degree find success in a number of careers, including:
Graphic & Website design
Illustrator
Animator
Web designer
View Course Curriculum
The Graphic Design and Digital Arts major curriculum (courses and course listings) is available in the official Academic Catalog.

Once in the catalog, you can use the buttons (pictured left) located at the upper right of the page to plan your courses, save courses to your own personalized catalog, print, and more!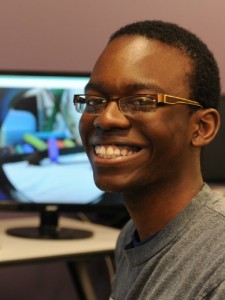 Alumni Profile
Sterling Haynes
Sterling's studies, as well as his experience operating the Tricaster video board at Malone football games, helped him land a job as a media production specialist right in Canton.