Learn how health shapes our humanity
Students who are majoring in another program may choose to take a Health Behavior minor in addition to their primary course of study. You'll take courses in subjects like death and aging, abnormal psychology, sexuality, and human development as you learn about the role health plays in the day-to-day choices that shape the human experience.
A minor normally consists of a minimum of 15 semester hours, 6 of which must be taken at the 300/400 level. Each academic school or department must approve the student and curriculum to be used in the completion of each minor for the Office of the Registrar to verify at the point of graduation.
*Please note that this minor does not qualify students to take the Certified Health Education Specialist (C.H.E.S.) Examination.
Academic Catalog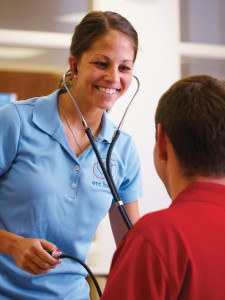 Alumni Profile
Rebecca Tipton '08
Rebecca has served internationally as an HIV/AIDS education volunteer with Global Service Corps and as a health educator with Ujamaa Hostel.