Pass your love of language onward
Consider the multidimensional rewards of studying English: superior rhetorical and writing skills, the ability to research, learn, and process complex information, emotional intelligence, adaptability, and self-knowledge, the chance to study (and produce!) great works of literature while wrestling with big ideas and big questions. Add to that the chance to become well-read, well-spoken, well-versed in the intellectual and artistic traditions of our culture, in ways that make possible clear thinking and decisive action.
Now consider the ongoing needs of young lives to be stretched and inspired in these same ways as they begin to come of age and prepare for adulthood. English teachers make a career of passing on to others the knowledge and experiences that have helped shape and equip their own lives. Students in the Integrated Language Arts program learn how to pass on the gifts of language and story in developmentally appropriate ways to meet the needs of growing teens. They turn their love of English into a challenging and rewarding career of service.
The School of Education is accredited by the Council for the Accreditation of Educator Preparation (CAEP), the standard of excellence in teacher pedagogy.
Why study Integrated Language Arts at Malone?
Begin in the woods, with an experiential literary retreat.
Learn in community. Student spaces, events, and optimal class sizes mean that you will quickly get to know your fellow travelers.
Living traditions. Choose from among six terrific and influential authors we believe you should know. Get to know their resources and their legacies.
Contemporary focus. Take a challenging look at present-day issues in our world, and keep in touch with today's authors.
Strong Creative Writing program creates opportunities for all students: student Writers Guild, literary publications, visiting writers.
Come to understand your work as a teacher within the broader framework established by Malone University, as a ministry and calling.
What kinds of opportunities will I have?
This degree equips you to teach English, speech, journalism, and communications in grades 7–12.
You'll have opportunities to explore the classroom setting from your first year in urban, rural, and suburban schools.
You'll spend a semester as a student teacher in the school of your choice—in addition to a student teaching seminar that will meet weekly. The seminar encourages reflection and provides opportunities for you to talk with your classmates about your experience. You'll participate in guided discussions about issues and trends affecting the profession and preparations for the professional role. You'll even work on your professional portfolio and develop your student teaching work sample capstones.
View course curriculum
The Integrated Language Arts major curriculum is listed in the official Academic Catalog.



Once in the catalog, you can use the buttons (pictured left) located at the upper right of the page to plan your courses, save courses to your own personalized catalog, print, and more!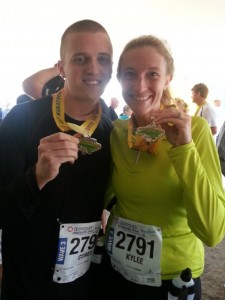 Alumni Profile
Kylee Maarscchalk
Kylee was named Teacher of the Year at North Carolina's North Hanover High School, which has more than 100 teachers and 1,700 students. She teaches world literature, journalism, and yearbook.