Share your love for learning
Spend time in rural, urban, and suburban classrooms as you are equipped to teach middle school learners. Learn from the best of the best teachers who are intentional about integrating the latest technology into the classroom.
"If you've got the unflinching drive, creativity, and enthusiasm for the fast-paced world of middle school education, then we want you on our team," says Associate Professor of Education Jeff Beine, Ph.D.
At Malone, we prepare knowledgeable, reflective, collaborative educators who are committed to serving others in order that all children may learn and develop to their fullest potential — and interact with each other and their environment with respect, compassion, and fairness.
You'll choose concentrations in at least two of the following four areas:
Mathematics
Science
Social Studies
Reading/language arts
Why study Middle Childhood Education at Malone?
Malone has important, unique partnerships with local schools in Stark County — some courses are actually taught by Malone professors but within the walls of a public school.
Employers of our graduates say that these teachers demonstrate a commitment to address the needs of all students in caring, nondiscriminatory and equitable manner.
Malone earned the prestigious CAEP (Council for the Accreditation of Educator Preparation) accreditation — the standard of excellence in the teacher preparation.
Graduates of the School of Education and Human Development often choose to teach in Ohio, but our alumni also teach throughout the nation and the world.
We emphasize using the latest technology in your classroom — and will make sure you're comfortable with it before you graduate!
Malone also offers a number of graduate programs, all leading to the Master of Arts in Education.
Malone is a site for the national tutoring program, America Reads, America Counts. You can earn money while you tutor children one-on-one in half hour sessions in reading and math
Student teaching
As a future educator, you are in the classroom early and often through field experiences. These opportunities provide exposure to the elementary classroom prior to student teaching. The student teaching semester serves as the culminating experience for the initial teacher education programs. Student teaching provides the opportunity to refine skills, integrate theory and practice, and demonstrate accomplishment within a structured, supervised setting.

View course curriculum
Course requirements for the Middle Childhood Education major are listed in the official Academic Catalog.

Once in the catalog, you can use the buttons (pictured left) located at the upper right of the page to plan your courses, save courses to your own personalized catalog, print them, and more!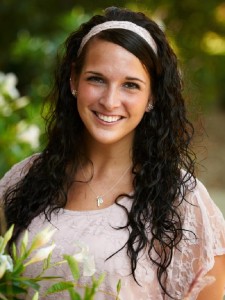 Alumni Profile
Rebecca Krejci
After graduating from Malone, Rebecca's connections in the area enabled her to land a job teaching sixth-grade language arts at Ohio's Cloverleaf Middle School.