Passing along your passion for music to future generations
Completing this comprehensive major in Music Education will prepare you for multi-age licensure to teach music to students Pre-K–12.

Our alumni teach in public and private schools, conduct choirs and marching bands, and also find success as administrators.
Why Malone?
At Malone, you'll take courses in both the music and education departments.
Malone has state-of-the-art recording studios and new facilities with the latest recording technology.
Our practice room suite contains 10 Wenger self-contained practice rooms where students have the ability to change the acoustics. Settings range from cathedral to recording studio and everything in between.
Malone is one of the few Christian schools of its size to have a marching band. The band performs at local band shows and at area high school football games.
Malone University has important, unique partnerships with local schools in Stark County — some courses are actually taught by Malone professors but within the walls of a public school.
Employers of our graduates say that these teachers demonstrate a commitment to address the needs of all students in a caring, nondiscriminatory, and equitable manner.
Graduates of the School of Education and Human Development often choose to teach in Ohio, but our alumni teach throughout the nation and the world.
We emphasize using the latest technology in your classroom, and we'll make sure you're comfortable with it before you graduate.
Malone also offers a number of graduate programs leading to the Master of Arts in Education.
View course curriculum
The courses for Music Education are are listed in the official Academic Catalog.

Once in the catalog, you can use the buttons (pictured left) located at the upper right of the page to plan your courses, save courses to your own personalized catalog, print them, and more!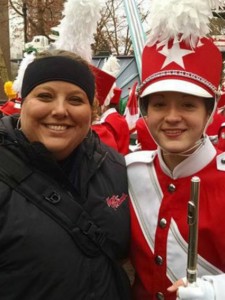 Outcomes
April Linard '05
As a band director, April had the opportunity to accompany students to perform in the Macy's Great American Marching Band for the Macy's Thanksgiving Day Parade!