Learn to provide truly excellent care
If you want to care for persons with health needs with the highest professional competence and Christ-like compassion, then consider enrolling in Malone's School of Nursing. This is the foundation of our baccalaureate nursing curriculum. During your studies, you'll learn that this type of caring—the best kind of caring—isn't just possible, but is made all the more excellent as one is accountable to God, self, and others!
Why study Nursing at Malone?
You begin the nursing program as a first-year student, which allows for longer exposure to clinical experiences than most universities. This means an easier transition into practice when you graduate.
Malone's curriculum offers a deeply intentional emphasis on stewardship, recognizing one's accountability to God, self, and persons with needs.
Malone has excellent faculty and robust relationships with local health care providers, which means your clinical experiences will afford you excellent career options when you graduate.
As a nursing major, you will complete a 45-hour immersion experience in a cross-cultural setting - vital experience for health care professionals today!
Malone has excellent relationships with local health care professionals, community settings, geriatrics, chronic care, pediatrics, hospitals, psychiatric facilities, and more-which allows you to explore your career interest.
Student nursing organizations are active in the community, organizing food drives, adopting families at Christmas time, and more, as an extension of our commitment to serving others.
The baccalaureate nursing program is accredited by the Commission on Collegiate Nursing Education, approved by the Ohio Board of Nursing, authorized by the Ohio Department of Higher Education, and holds membership with the American Association of Colleges of Nursing (AACN).
Research & Internship Opportunities
At Malone, you'll have the chance to gain firsthand experience through programs such as volunteering with the Hartville Migrant Clinic—or, consider the Akron Children's Hospital's ASCEND Program! There also are numerous opportunities to pursue research with our faculty or pursue and present your own at our annual Student Research Symposium. In addition, students have enjoyed presenting at national conferences. This is excellent preparation for graduate school—and your career.
View Course Curriculum
The nursing major curriculum for the basic program consists of 61 required semester hours of professional nursing courses. Each course is listed in the official Academic Catalog.


Once in the catalog, you can use the buttons (pictured left) located at the upper right of the page to plan your courses, save courses to your own personalized catalog, print, and more!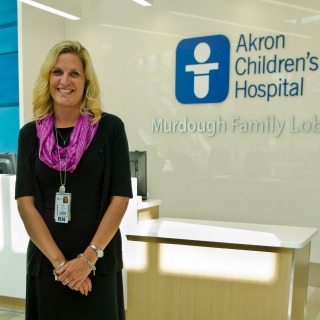 The Akron Children's Hospital/Malone University Connection
"A nurse is who I am, so in my job I get to combine my passions to be an advocate for nurses as we introduce new technology that saves lives and provides better patient care."