Learn to provide truly excellent care
If you want to be the kind of nurse who excels at caring competently and with compassion, consider enrolling in Malone's nursing program. This is the foundation of our baccalaureate nursing curriculum. From your very first nursing course you will learn that this type of nursing - the best you can be - isn't just possible, it's what nursing employers in this area have come to expect from our graduates: an excellent nurse who cares deeply for others.
Why study Nursing at Malone?
Every eligible applicant is accepted directly into the nursing major - no wait list here. You will take your first nursing course in your freshman year and begin clinicals in your third semester. This means you are getting hands-on experience three of your four years as a student! That kind of clinical practice makes your transition into the world of professional nursing so much easier. And it's what makes you stand out to prospective employers.
Our graduates consistently exceed the national average 1st time NCLEX pass rate to become an RN.
100% of our 2018 grads passed their licensure exam (NCLEX) on their first attempt!
100% of job-seeking graduates are employed within 6 months of graduation.
21st - century healthcare simulation experiences, robust clinical placements, and personalized academic support from professional RNs and experienced faculty, mean you are practice-ready upon graduation!
Individualized academic advising beginning in your freshman year. You will know and be known by your advisor, practically from day 1!
Research & Internship Opportunities
At Malone, you'll have the chance to gain firsthand experience through programs such as volunteering with the Hartville Migrant Clinic—or, consider the Akron Children's Hospital's ASCEND Program! There also are numerous opportunities to pursue research with our faculty or pursue and present your own at our annual Student Research Symposium. In addition, students have enjoyed presenting at national conferences. This is excellent preparation for graduate school—and your career.
View Course Curriculum
The nursing major curriculum for the basic program consists of 61 required semester hours of professional nursing courses. Each course is listed in the official Academic Catalog.


Once in the catalog, you can use the buttons (pictured left) located at the upper right of the page to plan your courses, save courses to your own personalized catalog, print, and more!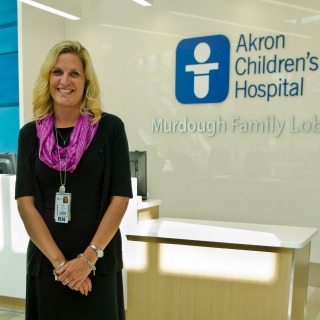 The Akron Children's Hospital/Malone University Connection
"A nurse is who I am, so in my job I get to combine my passions to be an advocate for nurses as we introduce new technology that saves lives and provides better patient care."