"ADVENT MEANS "COMING" IN LATIN, AND THESE WEEKS ARE MEANT TO PREPARE OUR HEARTS, MINDS, AND SOULS FOR THE ARRIVAL OF GOD-WITH-US, JESUS CHRIST, BORN TO THE VIRGIN MARY A COUPLE OF MILLENNIA AGO.
YOU'RE SUPPOSED TO FEEL THE WAIT-- THE ANTICIPATED ARRIVAL OF SOMETHING YOU WANT SO BADLY-- AND BY FEELING THE WAIT DEEPLY, YOU'LL BE EVEN MORE SATISFIED BY THE CELEBRATION OF THE ARRIVAL ON CHRISTMAS DAY. AT LEAST THAT'S THE HOPE."
As we near the end of 2020, a unique year where we waded into the unknown and became familiar with the unpredictable, Advent might just be what we all need. These daily prompts were created to lead us into the divine mystery and prepare our hearts for the holiday season. Our hope is that you take a few moments to reflect and respond each day. Let's join together as a Malone community in Anticipation.
Follow us on
Instagram
so they'll pop up on your feed. Or bookmark this tab so you won't miss them.
ADVENT SEASON IS NOVEMBER 29TH - CHRISTMAS DAY.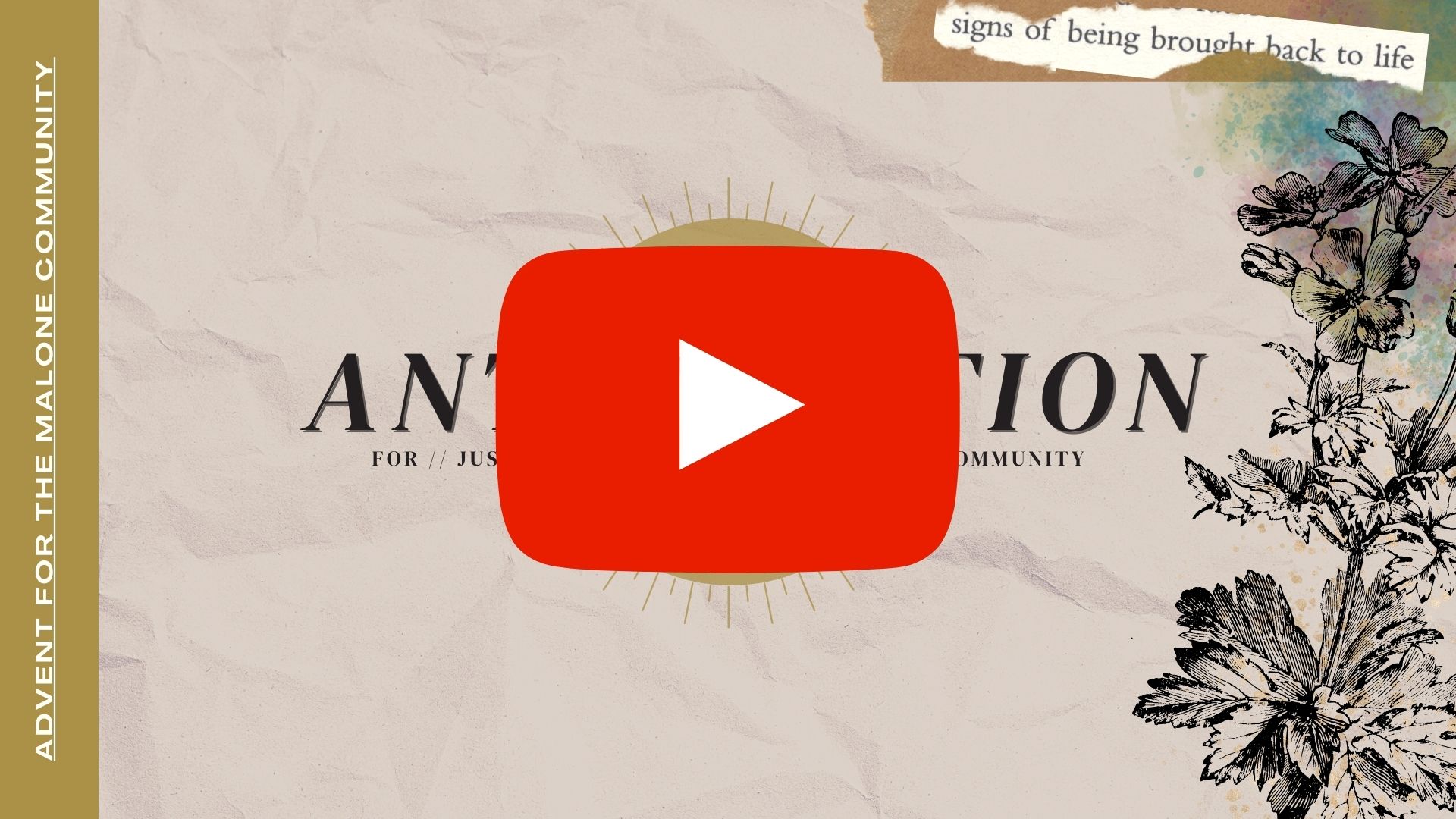 Want to know more?
Advent marks the beginning of the Church Year for most churches in the Western tradition, and begins on the fourth Sunday before Christmas day. The focus of the entire season is the celebration of the birth of Jesus Christ in his First Advent, and the anticipation of the return of Christ the King in his Second Advent.
Music sung during the season of Advent often includes verses about waiting, anticipation, longing, and hope. The advent wreath is a common element in worship services preceding Christmas day. Each candle in the wreath has a particular meaning, like HOPE, LOVE, JOY and PEACE. The white candle in the center is the Christ candle, lit on Christmas Eve or day to celebrate the birth of Christ.
WANT SOMEONE TO TALK WITH ABOUT THIS? JUST WANT TO KNOW SOMEONE IS PRAYING FOR YOU DURING THIS SEASON? FILL OUT THIS FORM. OUR OFFICE IS HERE FOR YOU.
Dates: November 29 - December 5
Use the link below to see Advent Days 1 - 7!
Dates: December 6 - 12
Use the link below to see Advent Days 8 - 14!
Dates: December 13 - 19
Use the link below to see Advent Days 15 - 21!
Dates: December 20 - 25
Use the link below to see Advent Days 22 - 26!