2013 graduate becomes Fulbright Scholar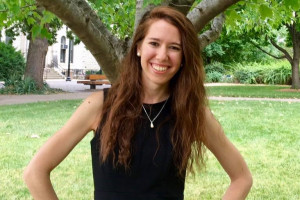 Hannah Harker '13 recently became a Fulbright Scholar, an honor which will allow her to serve as an English Teaching Assistant in Uruguay from March through November this year. Harker's path to this accomplishment started at Malone where she studied Spanish Education.
"I always felt called to go to Malone when I began my college search," she said. "I appreciated my professors' genuine interest in developing our intellects and preparing us to go out into the world as mindful professionals. Each faculty member, in their own way, challenged me to put my faith in action as I learned."
Harker graduated with a master's degree in Second Language Acquisition with an emphasis in Spanish from Kansas State University in 2019. She wanted to deepen her knowledge of the language learning process to better teach and serve.
"I consider myself very fortunate to have had many talented educators as teachers and mentors over the years; their influence inspired me to pursue a career in the profession," she said. "My thesis adviser at Malone taught me to be an independent learner, which has served me well in my master's program. Her sincerity toward the Hispanic world helped me to see Spanish as the language of unique people groups and not just as a system of words and grammar rules. Her classes always had a community service component, which helped develop my heart for this population."
Her placement with a Uruguayan teacher during her undergraduate student teaching instilled in Harker a desire to travel to the country, and she knew Fulbright Uruguay advertised the possibility of working with teacher training programs. She plans to primarily be an English Teaching Assistant in Montevideo, Uruguay's capital, and possibly in a rural town as well.
Harker intends to make the most of this opportunity.
"I'm most excited to just get to know another culture and dialect of Spanish. The more I have been able to meet people from other countries, the more I have grown to appreciate the diversity of the world. I'm excited to exchange perspectives and be immersed in a new community."