2017 Communication Arts grad "motivated for success"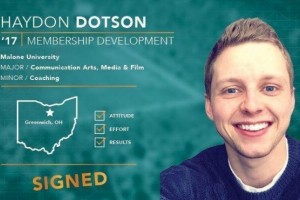 Taking a leap of faith showed Haydon Dotson '17 that his love for relationship-building could introduce him to career possibilities he had never considered.
"I am an extrovert and I love sports, so I assumed that sports broadcasting would be the best fit for me," Dotson said. "While I was pushing myself to be the next newscaster at ESPN, God was working through my connections to show me a different, but equally-fulfilling, career path in professional sports."
Via an initial connection with fellow Communication Arts graduate Karli Kadlecek '16 and a workshop that connects college students to sports professionals, Dotson earned an internship with the New York Mets.
"At first I was hesitant because I thought sports sales would be all business and numbers," said Dotson. "What I didn't know was that I could leverage my love for people to build relationships with new clients through our shared interest in a sports franchise. Once that light bulb went on in my mind, I realized what makes me tick: engaging with others to see what makes them tick. I find excitement in sharing their excitement."
After graduating this May, Dotson landed a position as an inside sales representative for the National Football League's Miami Dolphins.
"I can honestly say that this is the toughest thing I've ever done, but I've never been more motivated for success," Dotson said. "I love this place and the people I work with. They're the ones that make it worth it to come to work day in and day out."
Dotson continues to learn that God surprises His children with blessings in unexpected ways.
"One of the things I am enjoying most about my time with the Dolphins so far is to see how God puts Christians together in secular working environments to encourage one another," Dotson said. "I expected the corporate world to be intense and cut-throat, but that hasn't been my experience here. Instead, I work with several other Christ-followers in the front office who mirror what I learned at Malone in the working world. It shows me in a meaningful way that my Malone experience will never be separated from me."