2018 Nursing Graduates: 100% NCLEX Pass Rate!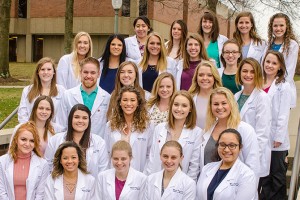 Each of the graduates of the Bachelor of Science in Nursing Class of 2018 have passed the National Council Licensure Examination (NCLEX-RN) on their first attempt, achieving a 100 percent pass rate. According to the National Council of State Boards of Nursing, the 2018 national average pass rate is 89.7 percent.
"We are so proud of our students – they truly are 'our' students, and this achievement speaks well to the value of a liberal arts-based nursing education from a broad and varied influence for our students' growth and transformation beginning Day 1 of their first semester," said Deb Lee, Dean of the School of Nursing and Health Sciences at Malone University. "I'm so grateful for each member of our nursing department – faculty, professional, and administrative staff – for their unflagging devotion to Christ-centered excellence in nursing education."
This is the second time in Malone's history that every graduate passed the NCLEX on their first attempt – the first achievement occurred in 2005. First time pass rates have steadily climbed the past three years; last year, the class had a 97 percent pass rate.
The Malone University School of Nursing BSN Program is accredited by the Commission on Collegiate Nursing Education (CCNE), approved by the Ohio Board of Nursing, authorized by the Ohio Department of Higher Education, and holds memberships with the American Association of Colleges of Nursing (AACN) and the National Organization of Nurse Practitioner Faculties (NONPF). Caring for persons with needs through professional competence and Christ-like compassion is the foundation of Malone's baccalaureate nursing curriculum.
"We are thrilled with this news," said Malone President David King. "Kudos to the new registered nurses, and to all who have contributed to and spoken into each of our students and their success."
2018 Bachelor of Science in Nursing Graduates
Megan Beers
Hannah Campbell
Desira Carpenter
Heather Carr
Tiffany Casturo
Jennifer Chapman
Angela Coblentz
Alissa Courtney
Margaret Cunningham
Diana Deleon
Anthony DiCicco
Aubrey Elder
Erin Friday
Lisa Greenaway
Christy Hensley
Angela Indorf
Jean Kaminski
Jacquelyn Kleve
Rachel Koons
Kirk Larson
Kayla Lindgren
Alexandria Mazzilli
Brittany Miller
Robin Mussig
Kacy Napolitan
Robin Nelson
Jannel Palombo
Amanda Paugh
Ashton Purdy
Diana Randall
Elizabeth Rhoads
Megan Ritts
Susan Robinette
Rebecca Romach
Lucas Roshong
Yamima Sharma
Rachel Skledar
Jillian Smith
Rachael Smith
Laurie Stantz
Stephanie Still
Annie Stull
Kathryn Thompson
Stephanie Vaughn
Chelsey Warden
Lydia Waters
Victoria Webb
Kady West Jessica Wheeler
Marissa White