2021 Distinguished Faculty Award recipients honored
Malone University honored: Elizabeth Patterson Roe, Stephanie Reagan, Steve Wirick, and Malia Miller.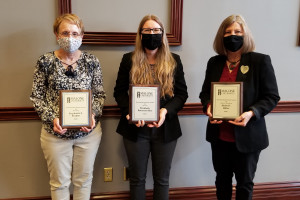 Each year, four faculty members are honored for their commitments to teaching, service, scholarship/creative expression, and adjunct teaching as a result of nomination by students, faculty, and administration. Each recipient is passionate about their field of expertise and intentional about integrating faith into the classroom.
Celebrating Excellence
"We had an amazing number of recommendations this year, which made the selection process quite difficult," said Greg Miller, provost. "In light of the challenges that come with providing education during a global pandemic, the outpouring of nominations for these awards is a beautiful testament to our faculty's commitment to Malone's mission and students."
2021 honorees are Elizabeth Patterson Roe, Stephanie Reagan, Steve Wirick (not pictured), and Malia Miller.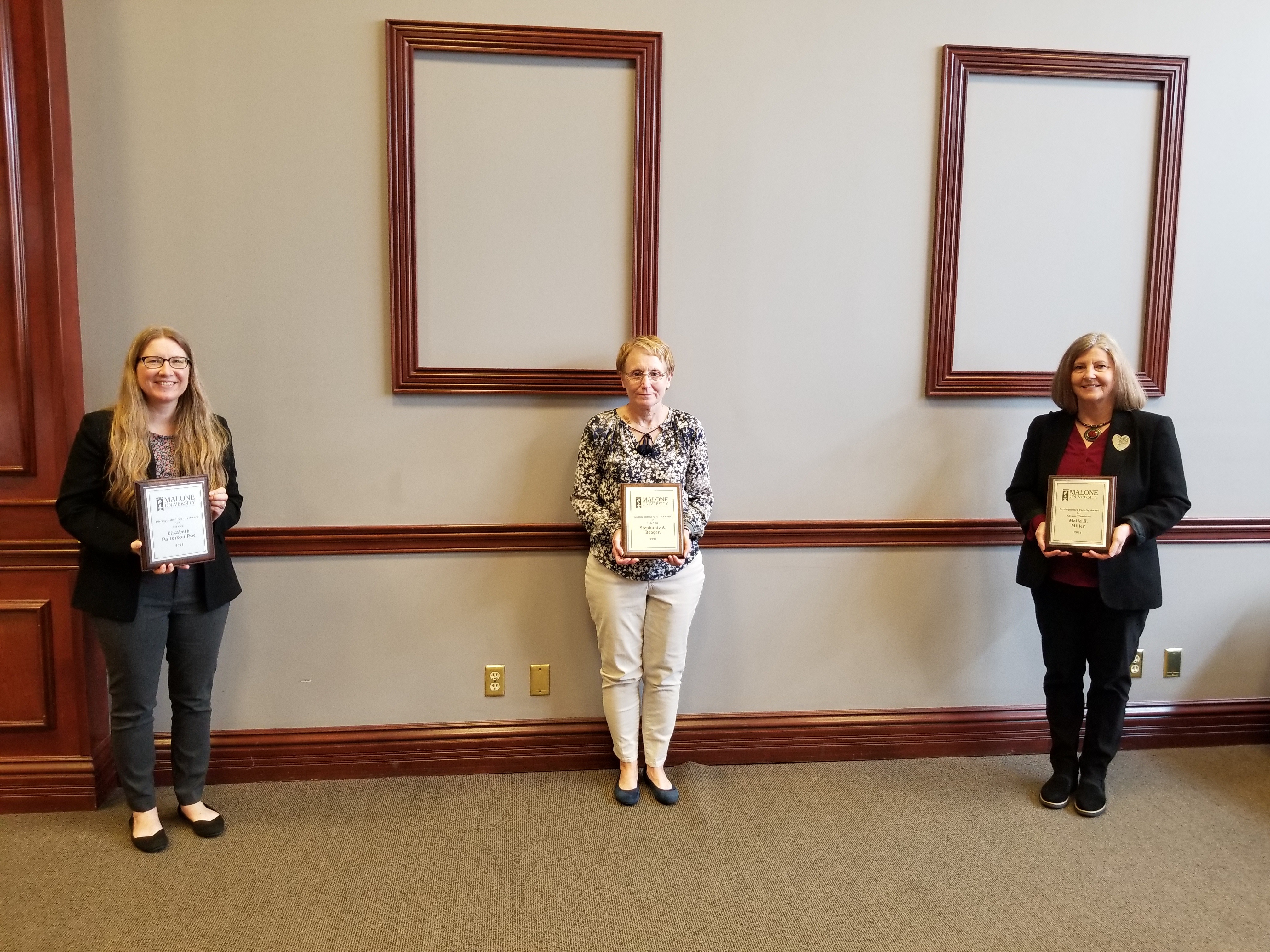 DISTINGUISHED FACULTY AWARD FOR SERVICE: Elizabeth Patterson Roe, Social Work
"My husband and I chose to live intentionally and practice Christian community development in the Summit Lake community, a low-income community in Akron. We desire to live out Christ's example, an incarnational model of ministry in marginalized communities. Through various organizations and our church, I volunteer in a variety of ways and have used my skills for community-based research to help organizations understand the assets, needs, and desires of our neighbors. I engage Malone students in service through internship experiences. We have also had six Malone graduates move into the neighborhood for 11 months or more. While having opportunities to use my community development skills to serve, our community is also my classroom as I continually learn from my neighbors about the real issues that urban poor communities face. I incorporate this learning as I teach."
DISTINGUISHED FACULTY AWARD FOR TEACHING: Stephanie Reagan, Nursing
"As a mentor for my students, I strive to provide the guidance for them to become safe practitioners. I stress the importance of accountability and most importantly I try to see the potential in every student. Nursing is a demanding and rigorous profession and nurses need to be able to demonstrate compassion not only for their patients but for each other as well. I have had many students call me after graduation and share with me their experiences as a novice nurse and thank me for their learning; stating, 'you were tough, but I learned so much.'"
DISTINGUISHED FACULTY AWARD FOR SCHOLARSHIP: Steve Wirick, Natural Sciences
"It was an honor to collaborate with Dr. Debra Lee and Dr. Lora Wyss from our nursing department on the completion of our paper, 'Creative Learning and Teaching Activities in a School-Based Program Promoting Adolescent Health.' I owe much gratitude to them for their expertise and contributions to our project, my first official publication. Five years in the making, this project was well-suited for the line of research I look forward to expanding upon as we continue to identify workable solutions to increase the physical activity levels of our population."
DISTINGUISHED FACULTY AWARD FOR ADJUNCT TEACHING: Malia Miller, Graduate Counseling
"I rest in the security that as long as I strive for continuous improvement in my teaching methods, while maintaining a close walk with Christ, student success is a likely result… My role is to guide them through the curriculum while tending to the personal and professional challenges they face as they hone their skills through practice; and most importantly, to be a vessel of God's love as they do so… Like all of my colleagues at Malone, I continue to see my students through the eyes of Christ and bring my experience and expertise to them so that they might serve their students in reaching their potential."
Learn more about these awards and view a list of previous recipients here.