A LASTING IMPACT. Coach's legacy goes beyond the volleyball court
Tanya Hockman's response to coaching her 400th victory match is exactly part of what makes her an exceptional volleyball coach.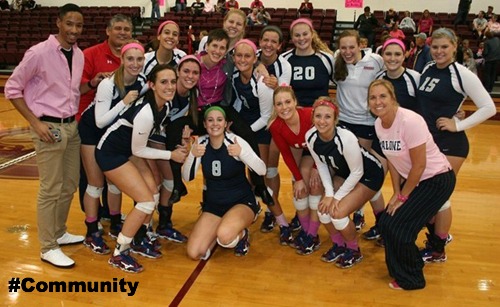 "We – players, coaches, support staff – have won 400 matches," said Hockman. "I have an amazing assistant coach, Rafael Gonzalez, who has selflessly and faithfully stood on the sidelines with me for 16 years. We are truly blessed."
Even sweeter, the victory was against crosstown rival, Walsh University. Malone won three of four sets.
Hockman's record at Malone is 400-229; the GLIAC win was the Pioneers' ninth in their last 10 conference matches.
Junior Sarah Brent appreciates Hockman's approach to athletics.
"She is great at balancing academics and volleyball – she won't let volleyball take over our lives," Brent said. "She helps us live better lives on and off the court and incorporates life lessons into everything we do."
Hockman has two degrees from Malone –both bachelor's and master's in Christian Ministries, and has taught for the Department of Theology. She played volleyball and basketball throughout her undergraduate career, and served as assistant volleyball (and basketball) coach before becoming head coach.
"I find coaching to be such meaningful work," Hockman said. "For me, it's about so much more than developing skills and playing the game. It's ultimately about seeing people grow and mature into devoted Christ followers, and also a way for me to mentor and walk alongside people for a short time in their lives, and have a meaningful, lasting impact on who they become."
Hockman said this year's team at first struggled to find cohesion. Now, however, they are poised for post-season play.
"We're really excited for Tanya," said Athletic Director Charlie Grimes. "She is the embodiment of our Christ-centered mission in athletics. That's not an easy task in a competitive environment, but she's doing it. She's a great leader."