A ministry of hope
Jordan (Davis) Raffin '18 grew up as the beloved daughter of a youth pastor, and the only sister to three brothers. Men who love her and protected her. Now, it is Raffin's vocation to nurture and protect girls who did not have what she did growing up, girls who have known mostly pain and abuse.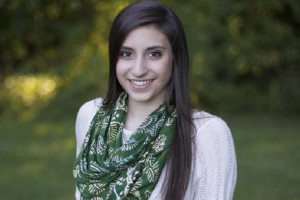 Raffin interned with Rahab Ministries in Akron, an organization devoted to rescuing and restoring victims trafficked in the sex industry, for her social work major, living out a passion she discovered her sophomore year of college.

"I learned about human trafficking from an ad for the Super Bowl, and I wanted to do something then and there," said Raffin. "I changed my major to social work and my dream job is to eventually work as a case manager or eventually open a safe house in the Canton area."

After graduation, Raffin continued to volunteer for Rahab: A Ministry of Hope. This year she was thrilled to be hired as a resident supervisor for Northeast Ohio's first "safe house" for minor victims.

Named for Rahab's founder Becky Moreland, "Rebecca's Place" works with girls aged 11 to 17, offering them a home - in an undisclosed location - that is hidden and far away from the people who tried to hurt them.

Rebecca's Place is the first juvenile safe house in Northeast Ohio, where last year alone, 42 children were rescued from human trafficking.

The girls will be offered holistic care - in addition to the safe home for them to live in, they will receive education and mental health counseling.

"I'm excited to build relationships with the girls, to get to know them and help them heal and grow," Raffin said. "To champion them and to tell them that what they've endured doesn't have to define them."