A Time to Build
A TIME TO BUILD. Marisa Bellanca graduated with her bachelor's degree this May, and is now finishing her MAOL through Malone's combined program.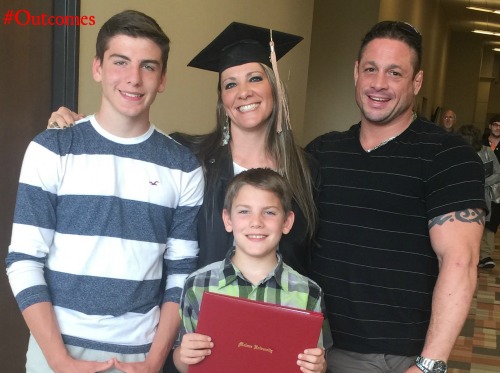 Marisa Bellanca '16 was looking to advance her career.
So the busy wife and mom made the decision to go back to college, completing homework assignments at her sons' football practices, during down time of their wrestling tournaments, and reading textbooks between surgery cases at her job.
"The rewards of this degree in the future are worth the temporary sacrifices I've had to make," said Bellanca. "Every day I've needed to remind myself one day and one class at a time!"
Many adult students find that once they've returned to school to earn their bachelor's degree, they are ready to keep earning more degrees. So Malone University has looked for ways to make that easier and more affordable – and now offers a combined program in which degree completion students may also begin work on the master of arts in organizational leadership (MAOL) in a combined program. Bellanca was one of the first students to enroll in this program and already has graduated with her bachelor's degree. She's now fully enrolled in the master's program, and has taken it all online.
"I've never taken an online class before going to Malone," she said. "I was nervous and unsure about it, but I couldn't imagine doing it any other way now. I have even been on vacation with my family, and was able to make time for classes, too. I didn't have to miss out on any memories with my kids because I was able to do the online program."
After she finishes the MAOL, Bellanca hopes to work in hospital administration.