Alumna Returns to Malone to Teach
Andrea Fry Spotleson '17 was drawn to the sciences, but didn't have a clear path forward.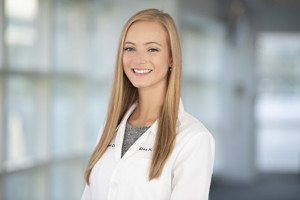 "I really loved my biology classes since I started them in middle school. Unfortunately, I had a youth pastor who questioned if one could study science and be Christian at the same time. I wanted to be a follower of Christ, so that was a deep blow to my desire to study science," said Spotleson. "I was always told I was compassionate and had a heart for service, so I connected that with education and being a teacher."
Her original focus on education led her to Malone, among other reasons.
"The education department was a huge draw for me, but Malone was also the only school to give me a scholarship for academics," she said. "I visited for Scholars' Day, met a lot of great staff, and learned I was able to integrate my education with my faith in the classroom which is something I hadn't experienced before."
But it wasn't long before the call of science beckoned Spotleson once again.
"I switched to biology at Malone in large part because my Biology 2 course with Dr. Courter really drew me into the practical side of the sciences. I appreciate how my professors emphasized that you can practice science and be a Christian," she said. "As I started taking more science classes at Malone I honed in on becoming a physician assistant."
Spotleson wasn't given only a career path with her biology degree at Malone, but also lifelong memories and friends.
"My husband and I met at Malone, and half of our wedding party were college friends. That core group that we still see regularly is amazing," said Spotleson. "I was also involved with Student Senate, so being a voice for the student body and engaging with faculty was something I enjoyed. Being on campus with my friends and experiencing the communal life at Malone was incredible."
Spotleson is now a physician assistant working in family medicine at The Cleveland Clinic - Akron General.
"I see my own patients every day, and I'm able to treat anyone from birth to elder care. I can diagnose, order lab tests, medications, referrals, and I follow up with patients from visit to visit," she said.
Most recently, Spotleson has returned to Malone as an adjunct faculty member, teaching labs for Anatomy and Physiology 1.
"It's weird and cool to be teaching at my alma mater. When I was approached to take on the lab I was honored but didn't think I could do it. But, being a student at Malone, I learned what the expectations of the program are and what students go through, so I can speak to that in my classroom. It's nice to have some commonality with my students," said Spotleson. "I work hard to take what I see in the clinic and show that to the students so they can be more prepared for the practical aspects of their future jobs. I try to take what I do professionally and make it very tangible for our students."
In many ways, Spotleson's life has come full circle, combining her love for science and her gifts for teaching; both skills that she nurtured and developed at Malone.
"I felt that I might teach eventually; I've always liked the mentorship side of teaching and being a role model. As I transitioned from education to biology at Malone, I knew I wanted to come back to higher education where I connect with students best," she said. "One of the things that I most valued about my time at Malone was being able to have faith integration in my education. When you have that, you understand that what we do in our day-to-day life isn't just for us but for the glory of God and being able to further His kingdom. I am here to serve God's people and I want to help students find their purpose and calling as both a Christian and professional."
Spotleson hopes to continue her career in each capacity, both as a medical professional and educator.
"I specialized in family medicine during my first year as a PA and I really feel that this is my niche where I love to be. I want to grow my patient population, and continue in that role," she said. "I also love coming to Malone and helping with labs and, at some point in the future, I could see myself as a clinical coordinator for a PA program to help students."