Alumni Novelist receives "Agatha Award"
In the world of mystery novels, the highest honor an author can receive is the Agatha Award.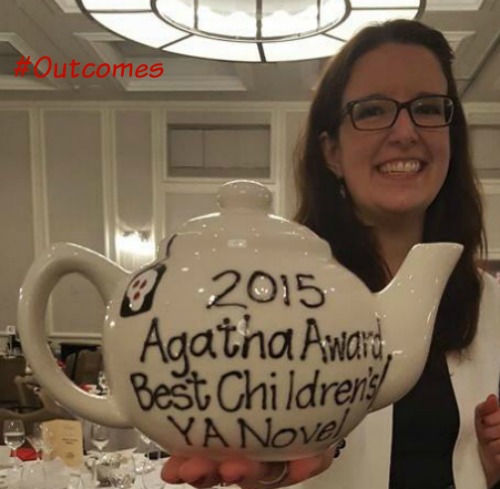 Novelist Amanda Flower '02 has been nominated for the award four times. This week, she won the Best Children's/YA Novel award for her book Andi Unstoppable. She has also written under the moniker Isabella Alan, and was named a USA Today bestselling author for her Amish mystery series.
"If it wasn't for the Agatha teapot (the trophy for the award) sitting on my mantle at this moment, I still would have trouble believing it," Flower noted on her blog.
In a speech, Flower accepted the award in memory of her parents.
"When I was a little girl and told them I wanted to be a mystery author when I grew up, they never said that was impractical, they said what can we do, how can we help," Flower said. "I am so very grateful."
Flower's main character, Andi Boggs, was orphaned at the age of 12. Flower was a young adult when she lost her parents, but, she said, "the loss of them was no less great."
"To have suffered great loss makes me appreciate great joy that much more; to know deepest pain allows me to recognize greatest happiness," Flower said. "It has made me a better writer, a better Christian, a better person. I learn something new about myself and the world from every novel I write. Like Andi in the series I have made a conscience choice to hold onto joy and seek out new adventures and challenges. God has taught me through writing the Andi series that pure joy... is still possible. I'm so very grateful…. All I can do to show my thanks is in the work I have been assigned for my time here on Earth: to write books that glorify Him and bring joy to others."

"We are so proud of Amanda," said Diane Chambers, professor of English. "It is exciting to see her living out her dream."