Alumnus plays on the Korn Ferry Tour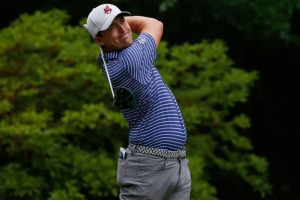 Justin Lower '11, former four-time All-American recently finished 28 on the point ranking for the Korn Ferry Tour. The top 75 players gained full status on the Korn Ferry Tour for 2021, which Lower easily grasped by finishing with 739 official points, two top 10 finishes, and a scoring average of 69.97. The season ended in early October 2020 and he will continue playing on the Korn Ferry Tour with the goal of making the top 25 and stepping up to the PGA Tour.
Lower credits his success, in part, to his Malone experience and head golf coach, Ken Hyland. During his time at Malone, Lower and Hyland began a meaningful relationship which enhanced the whole golf team.
"When I was at Malone, Coach Hyland and other alumni encouraged me to be the very best that I can be," Lower said. "He encourages me in golf and with my faith. Coach has created a fraternity, so to speak, and it's very beneficial in many ways."
Throughout the winter, Lower has continued to refine his game by helping current Malone golfers grow their technique during his free time at facilities like the First Tee and the Hall of Fame facility, both in Canton.
"Justin has an impressive short game, and it's awesome to have someone like him around because of his vast knowledge of the game," said Mark Schlabach '21.
"The First Tee facility in Canton is a great place for practice during the winter," Lower said. "It will allow me to help the team with drills, mechanics, and other questions they have. It's a worthwhile opportunity for the team to learn and improve."
The Korn Ferry Tour resumes tournament play this week, beginning Thursday, February 18. Lower will continue to pursue his tour card through "The 25." He will also continue to play in qualifiers in hopes of qualifying for another tour event.