Alumnus Russell Shaffer '01 named chair of American Foundation for the Blind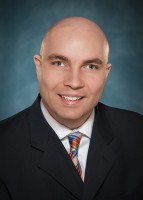 Russell Shaffer '01 was named chair of The American Foundation for the Blind (AFB), a national nonprofit that creates a world of no limits for people with vision loss.
"Russell Shaffer is a strategic thinker and leader with expertise in diversity and inclusion – two areas that are key for us as we work to create a more level, inclusive playing field in the workplace, the classroom and communities around the nation," said Kirk Adams, AFB President and CEO.
Shaffer works as director of Global Culture, Diversity & Inclusion at Walmart at their national headquarters and is responsible for brand strategy, outreach and benchmarking. He has been there for nearly 12 years. He has served two terms as chair of Walmart's Advocates for Disability Awareness and Education (ADAE) resource group, and has been a board member of Sources for Community Independent Living in Fayetteville, Ark. since 2012. Other volunteer roles include positions on the U.S. Business Leadership Network's (USBLN) Corporate Advisory Board, the Disability Equality Index Advisory Committee, and the National Council on Independent Living's Corporate Development Council.
"I'm honored to have been elected chair of an organization with such a deep and rich legacy as AFB – one that spans nearly 100 years, includes major roles in shaping many seminal milestones on the journey to inclusion for people with vision loss, and counts the great Helen Keller among its first employees," Shaffer said.
Shaffer graduated with honors from Malone and majored in business administration and communication arts. He lives in Rogers, Ark. with his wife, Jessica, and their children, Sophia and Brady. His perspectives on disability advocacy and inclusion are informed by his experiences with retinitis pigmentosa, a genetic, degenerative eye disease that was diagnosed when he was 10 years old and led to his legal blindness by his late 20s.
Shaffer also has longstanding ties with AFB, having served as a CareerConnect mentor, helping others with vision loss through career coaching. He is a former recipient of the Stephen Garff Marriott Award, which honors a blind or low vision individual who has served as an extraordinary mentor or who has attained remarkable professional success, and has been an AFB board member since 2015.