Alumnus secures PGA card at the Korn Ferry Championship
Justin Lower '11, former four-time All-American, won his first ever PGA card at the 2021 Korn Ferry Tour Championship - Victoria National Golf Club in Newburgh, Indiana.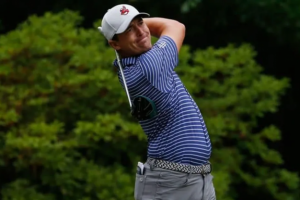 On Lower's last round of the event, Sunday, September 5, it all came down to the last hole. He needed to make par in order to secure the final spot on the PGA tour. Lower got up-and-down with a pure chip shot, leaving him a short putt to lock in par. This tied him for 15th place, and gave Lower the 25th spot in the lineup for the Final 25. His four tournament scores were: 70 - 70 - 68 - 71, giving him a solid negative nine finish.
Lower concluded the season with 1332 official points, three top 10 finishes, and a scoring average of 69.60.
He credits his success, in part, to his Malone experience and head men's golf coach, Ken Hyland. During his time at Malone, Lower and Hyland began a meaningful relationship which enhanced the whole golf team.
"When I was at Malone, Coach Hyland and other alumni encouraged me to be the very best that I can be," Lower said. "He encourages me in golf and with my faith. Coach has created a fraternity, so to speak, and it's very beneficial in many ways."
As he is able, Lower has continued to refine his game and give back to Malone by helping current Malone golfers improve their technique at facilities like the First Tee and the Hall of Fame facility, both in Canton.
"Justin has an impressive short game, and it's awesome to have someone like him around because of his vast knowledge of the game," said Mark Schlabach '21.
"The First Tee facility in Canton is a great place for practice during the winter," Lower said. "It will allow me to help the team with drills, mechanics, and other questions they have. It's a worthwhile opportunity for the team to learn and improve."
In the days that have followed Lower's win, Hyland reflects on Lower's personal and professional growth.
"I believe that golf saved this young man's life," said Hyland. "I've watched him grow so much over the years and I learned quickly that you can always count on Lower to give 100% in anything that he sets his mind to."
Lower will be on the road this weekend to pursue his first PGA tournament in Napa, California.