An altered trajectory to a fulfilling career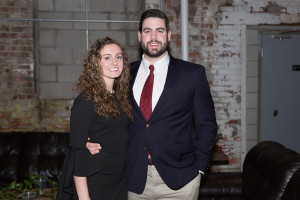 College is often recognized as a time of growth, discovery, and change. For Camden Baucke '18, it was just that. He came to Malone as a nursing student and football player but spent his last two years as a psychology major and a track athlete. He quickly found, after switching his major, that psychology was his calling and he is currently a candidate in the General Clinical Psychology master's program at Eastern Michigan University.
"Nursing solidified my love for helping others and understanding the human body," he explained. "Psychology, especially my work with Dr. Seifert, established my love for the 'behavior/mind/brain' connection."
As a Malone student, Baucke studied under Lauren Seifert, chair of the department of psychology, and gained both hospital and research clinical experience that included an independent study and a case study.
"The one-on-one time with my professors gave me time to soak in the knowledge they had and learn more about the practical field of psychology, in addition to the materials we discussed in class," he said.
During a neuroscience class, Baucke discovered he wanted to be a neuropsychologist. After graduation, he gained valuable clinical experience as a mental health case manager at Greater Cincinnati Behavioral Health, helping those in the community with severe psychopathologies such as schizophrenia and major depressive disorder. Though he recognized the value of this job, it was not his passion.
"I realized I wanted to attack psychopathology at its roots: childhood. So I decided to pursue becoming a pediatric neuropsychologist," he said.
This is how he landed at Eastern Michigan University, pursuing a degree in clinical psychology, while also serving as a research assistant in the PediaTrac project (a web-based measure to screen and track early developmental trajectories).
"Wonderful people, faculty, and Malone-specific opportunities helped me find exactly what I wanted to do. Malone fostered my growth and gave me room to explore and change my career path."