Becoming Taylor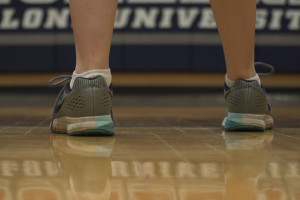 When Taylor Hetrick '16 was weighing her college options, she was a Paralympic swimmer who wanted a Christian community where she could find belonging. She enjoyed being a Pioneer swim team member for about a year and a half before choosing to stop so she could focus on her social work major.
Blind from childhood due to premature birth, Hetrick felt well-supported by Malone faculty, staff, and coaches.
"Malone's community was so accommodating," she said. "My professors helped connect me with necessary adaptations to their curriculum so I could receive my class materials in an accessible format. The Center for Student Success was so supportive throughout my time at Malone, and my coaches were happy to accommodate my Paralympic meets during swim season."
Now a provider of substance abuse counseling at Stark County TASC in Canton, Hetrick supports individuals referred to them through the criminal justice system. She also assists clients who are self-referrals and youth clients.
"I learned so much through the professors in Malone's social work program because they use their experiences in the field to teach us necessary skills in hands-on ways," she said. "Our field experiences and internships gave us practical experience and I especially appreciated the ways they integrated faith into our class discussions."
"Becoming Taylor" is the result of friendship and collaboration across the academic disciplines at Malone.
Sangsun Choi, assistant professor of media production, with help from Naomi Grandison '19 and Vincent Leone '19, created the 8-minute documentary to explore Hetrick's unique view of the world.
"As a visual storyteller, my work focuses on an ethnographic approach to social minorities and vulnerable people," Choi said. "I usually do various international projects, but I thought that it was time to shed light on my neighbors and the Malone community. As an eyewitness to someone's life through a viewfinder, my goal is not just to remain a bystander but to invite audiences to social participation by opening their heart through an original story."
Grandison, a student of Choi's, created work that featured Hetrick for his class and Choi found her story compelling. He asked for an introduction so he could learn more about Hetrick.
"What I hope that others will see from the documentary is that I don't intend to inspire others. I just want to make the most out of every opportunity I'm given," Hetrick said. "I believe that life is meant to be enjoyed and it's important we make the most of every situation with positivity, no matter our circumstances."