Center for Christian Faith & Culture presents lecture by Paul Anderson, "Seeing the Word of God: The Illuminative Impact of The Saint John's Bible"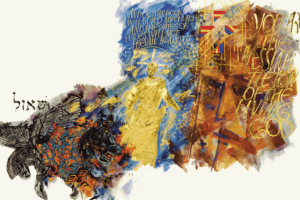 Malone University's Center for Christian Faith & Culture presents "Seeing the Word of God: The Illuminative Impact of The Saint John's Bible" by Paul Anderson, Ph.D. on Thursday, September 27 at 6:30 p.m. in the Everett Cattell Library. Refreshments will be provided by Malone University's Office of the Provost.
Professor of Biblical and Quaker Studies Paul N. Anderson '78 teaches at George Fox University. He has authored more than 200 published essays and is author or editor of more than a dozen books. He also is a co-founder of the John, Jesus, and History Project. His contextual introduction to the New Testament, From Crisis to Christ, offers new paradigms for biblical interpretation, and his books on John include The Christology of the Fourth Gospel, The Fourth Gospel and the Quest for Jesus, and The Riddles of the Fourth Gospel. His Ph.D. is from Glasgow University, and he has served as a visiting professor or scholar at the Radboud University of Nijmegen (Fulbright Specialist), the Guttenberg University of Mainz (DAAD), Princeton Theological Seminary, Yale Divinity School, and Chapman University (Griset Professor). He edited Quaker Religious Thought and Evangelical Friend, and he is the New Testament editor of the Biblical Interpretation Series (E.J. Brill), the co-editor of the Johannine Monograph Series (with Alan Culpepper, Wipf & Stock), and founding editor of the Quakers and the Disciplines series (Friends Association for Higher Education).
In 1995, Saint John's University and Abbey in Minnesota initiated a major undertaking to produce a modern illuminated Bible using entirely medieval techniques and materials.
The Saint John's Bible was created by Donald Jackson, Senior Scribe to Her Majesty Queen Elizabeth's Crown Office, along with a collaborative team of scribes, artists, theologians and scholars. This is the first illuminated, handwritten Bible of monumental size (2' tall x 3' wide when open) to be commissioned by a Benedictine Monastery in 500 years. All 73 books of the Old and New Testaments are presented in seven volumes of approximately 1,150 pages — produced on calfskin vellum using goose, turkey and swan quills; lamp black ink from 19th century Chinese ink sticks; cakes and powdered pigments mixed with egg yolk and water; gold leaf; and stencils and stamps used to apply paint and gold powder throughout.