Chancel Players return for fall 2019 season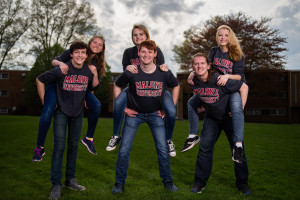 The Malone University Chancel Players, Malone's traveling drama ministry, have a full schedule this fall and will be visiting churches and schools across Ohio. Directed by Tammie McKenzie, professor of theatre, the Chancel Players bring Scripture stories to life on stage in a variety of 10 to 60-minute performances.
"The Chancel Players have been around for almost 50 years and our students continue to dedicate themselves to serving others through the dramatic sketches they perform," said McKenzie. "We are so glad that this program allows us to serve and share the love of Christ with our community while simultaneously giving our students a rich and rewarding theatre experience."
This year's team is made up of freshman Jaren Baer, sophomores Tyler Kirker, Megan Raines, and Savannah Pew, rising junior Christian Sanko, and senior Samantha Hudzik.
"Malone is blessed to have the most inclusive theatre that I have ever been a part of," said Sanko, this year's veteran member. "Chancel Players is a professional and fun opportunity for us all to become better performers and to meet and minister to hundreds of people in a variety of ways."
Check out the schedule for the Malone University Chancel Players below.
Sept. 15 -- St. John's, Archbold, Ohio 10:30 a.m.
Sept. 18 -- Central Christian School 10:05 a.m.
Sept. 26 -- Heritage Christian School 8:15 a.m.
Sept. 29 -- Jackson Friends Church 9 and 11 a.m.
Oct. 6 -- Mansfield First Friends 10:30 a.m.
Oct. 10 -- First Friends (WS) 6:15 and 7:20 p.m.
Oct. 13 -- St. Paul's Lutheran (Bolivar) 10:30 a.m.
Oct. 27 -- Shiloh Chapel Friends Church 10:30 a.m.
Nov. 6 -- Lutheran West High School 2:30 p.m.
Nov. 10 -- Union Hill UMC 10:30 a.m.
Nov. 15 -- Lake Center Christian 1:20 p.m.
Nov. 17 -- Brewster Friends Church 11 a.m.
Nov. 21 -- Grace Bible Church 12 p.m.
Nov. 24 -- Ragersville Zion 10:30 a.m.
To schedule a performance by the Chancel Players at your church, school, or event, call the Theatre at 330-471-8202 or email tmckenzie@malone.edu
Media Gallery
Chancel Players Performances '19-'20