Cheering on the Malone community
PASSING THE MEGAPHONE. Rachel Hunka, the Pioneers head cheerleading coach, points to a photo of herself as a cheerleader for the Cleveland Cavaliers. Right, the Malone University cheerleaders.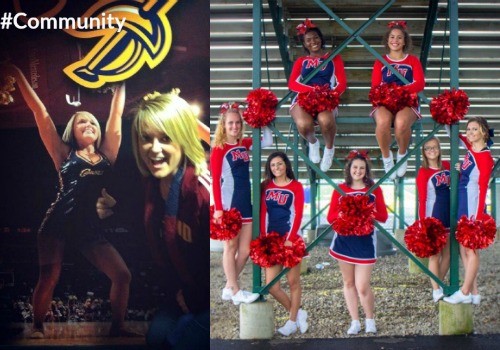 Rachel Hunka was a Cleveland Cavaliers fan before it was cool.
As a college student on the eastside of Cleveland, she wanted to see as many games as she could, so she got a job at Quicken Loans Arena working on the concourse doing game day entertainment and photography.
A dancer and gymnast since age five, Hunka was familiar with the dancing community in the Cleveland area, and one day while she was watching the dance team, it occurred to her that she actually knew some of the dancers.
"I watched the Cavalier Girls, and suddenly thought to myself, 'I know some of them! I've danced with them. If they can do it, so can I!"
And she did.
"I am a diehard Cavs fan," Hunka said, "so this was an amazing way to be right in the action, courtside. Such a great opportunity for that time in my life."
Now a member of the Malone community, serving in her first year as head coach of the Pioneer Cheerleaders, Hunka wants to develop not only athletes, but people of character who are prepared once they leave the University.
"When I first took on the role of head coach, I immediately started talking with the team about our mission and vision," she said. "We want to cheer on the Malone community to be victorious on and off the field."
Mentorship is especially important to Hunka's formula for developing character in young adults. She and her assistant coaches have set aside specific times to meet with the women individually and talk about life.
"It brings me a lot of joy to watch these women transition from teenagers to young adults," she said. "I have seen tremendous academic and spiritual growth in them, which I'm praying will equip them well as they prepare to leave Malone and impact the world."