Chorale 2019 Tour
Malone University Chorale & Chamber Choir in Concert March 1, 2, and 3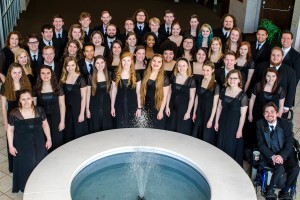 The Malone University Chorale and Chamber Choir will perform "Our God is God" in four concerts in Northeast Ohio venues March 1-3. All concerts are free and open to the public. The Chorale and Chamber Choir are under the direction of Jon C. Peterson, D.M.A. For more information or to download a digital press kit, please visit www.malone.edu/chorale.
Friday, March 1 at 7:30 p.m. at Westbrook Park United Methodist Church in Canton
Saturday, March 2 at 7 p.m. at Ohio Star Theater in Sugarcreek. Tickets are complimentary, but registration is required as space is limited. Secure your tickets at: www.malone.edu/advancement-events.
Sunday, March 3 at 2 p.m. at Roscoe United Methodist Church in Coshocton
Sunday, March 3 at 7 p.m. at Pleasant Grove United Methodist Church in Zanesville.
The mission of the Malone University Chorale echoes the words of J.S. Bach who said, "The aim and final reason for all music should be nothing else but the glory of God and the refreshment of the spirit." Through intense rehearsal and performance, the Chorale is motivated to prepare well and strive for excellence with a desire to make music that is an offering to the Lord. The Chorale functions in a way that seeks to represent the body of Christ. Its members strive to be Christ-like, witnessing to each other and those to whom they minister.
The Chorale is a mixed chorus of 60 men and women dedicated to the performance of a wide variety of a cappella classics, as well as hymn arrangements and spirituals. Under the direction of Dr. Peterson, they are known throughout the United States and Europe for their high level of musical excellence. Members are selected through competitive auditions each academic year.
The Chorale has traveled locally, domestically, and throughout the world for many years, with international destinations such as Canada, Europe, Asia, and Latin America. Performance highlights include collaboration with the Canton Symphony Orchestra (Mahler's Second Symphony and Brahms' Ein deutsches Requiem), the Tuscarawas Philharmonic Symphony, and the beloved Christmas at Malone tradition which occurs annually on campus. They were also the featured choral ensemble at the 2015 national conference of the Christian Fellowship of Art Music Composers.