Christina Schnyders appointed interim provost at Malone University
Malone University has appointed Christina Schnyders to the position of interim provost, replacing Gregory Miller who will assume the Malone presidency on July 1 upon the retirement of President David King.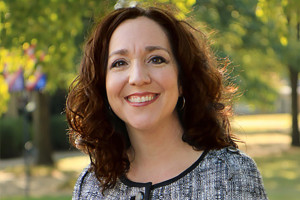 Schnyders currently serves Malone as Director of the Graduate Program in Counseling and Human Development and holds the faculty rank of associate professor.
"Christina has the trust of Malone University faculty and has a proven track record as an academic leader," said Miller, who will serve as Malone's 14th president. "She has the experience necessary to do extraordinary work from the Office of the Provost. Her love for Malone is genuine and inspiring."
Schnyders has served Malone in a variety of roles since 2006 when she joined the community as a resident director. Her academic responsibilities began in 2011 and she has risen through the faculty ranks, culminating in her work as Faculty Chair from 2019 to 2021. Her service also includes engagement in the University's strategic planning process.
She holds a doctorate in Counseling and Human Development from Kent State University and is a licensed professional clinical counselor. Schnyders earned her bachelor's degree from Simpson University in Redding, California and her master's degree in Clinical and Pastoral Counseling from Ashland Theological Seminary.
"I've always known that my love for Malone, and Malone faculty, is fierce," said Schnyders of her appointment. "I have come to embrace that I have gifts that can be of use and benefit to our faculty and at a campus-wide level. I look forward to representing our extraordinary faculty while allowing my gifts to be used for the good of the community."
Schnyders and her husband, Scott, have two children and reside in Canton.