Class of 2017 achieves 97% pass rate on NCLEX-RN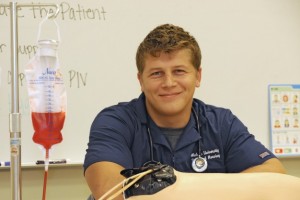 School of Nursing & Health Sciences
Malone University's Department of Nursing is thrilled to announce a 97 percent first-time pass rate of the National Council Licensure Examination (NCLEX-RN) for the Class of 2017. According to the National Council of State Boards of Nursing, the 2016-2017 national average first-time pass rate is 88.92 percent.
"Today's nurses are challenged like never before to think critically and quickly about increasingly complex patients and situations. We are so pleased for our graduates!" Debra Lee, Ph.D., Dean of the School of Nursing and Health Sciences said. "They came to Malone with dreams of making a difference in the lives of their patients and, with gratitude for His grace and for faculty and staff who taught, mentored, prayed with and for, and engaged them along the way, they are ready (AND licensed) to do just that - in amazing ways!"
The Malone University School of Nursing BSN Program is accredited by the Commission on Collegiate Nursing Education (CCNE), approved by the Ohio Board of Nursing, authorized by the Ohio Department of Higher Education, and holds memberships with the American Association of Colleges of Nursing (AACN) and the National Organization of Nurse Practitioner Faculties (NONPF). Caring for persons with needs through professional competence and Christ-like compassion is the foundation of the baccalaureate nursing curriculum. This type of caring is possible as one is accountable to God, self, and persons with needs.
"I am extremely proud of these students, and also of the faculty who helped prepare them," said Provost D.N. Phinney. "This result says a great deal about the quality of our nursing program and of Malone University. If you want to become a Registered Nurse, you should come to Malone."